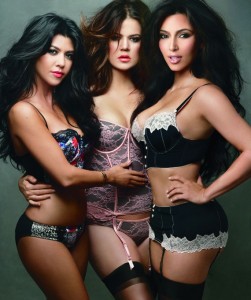 I'm not quite sure how this happened, but esteemed photographer Annie Leibovitz is now shooting Sears catalogs. Not just any Sears catalog, but a "Kardashian Kollection" catalog. For a woman who has taken some truly iconic photographs (Johnny Depp and Kate Moss on the bedsheets, anyone?), this is one of the worst Photoshop jobs I've ever seen. Though Khloe Kardashian is 8 inches taller than her 5ft 2inch-tall sisters, Kim and Kourtney, her proportions are almost identical in the image. Not only that, but Kim's copied and pasted physique is in completely different lighting to the others. Fakery on this scale is only going to have a negative impact on sales; you just have no visual reference to what you're really buying.
According to his lawyer, John Galliano won't be in court when the verdict in his anti-semitic rant case is handed down on Thursday, September 8th.
"Move over brick and mortar expansion tactics, retailers are finally realizing that bottom line growth isn't always going to come by swelling square footage. Zara and H&M are taking their fast fashion competition online, while Urban Outfitters is jumping into F-commerce (making their Facebook fan page shoppable)."
One of my favourite British footwear designers, Nicholas Kirkwood, is set to open a 1,500-square-foot store – his first in the U S of A – at 807 Washington Street in early 2012.