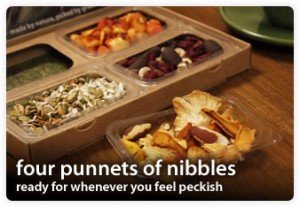 Most of us have some sort of snack danger zone, right? While I have no aversion to nibbling on fruit and vegetable, my danger zone comes in the form of chocolate. The second it is allowed in the house, I am running to save myself from inhaling a bar.
For this reason, I was super excited to find a service called Graze.
Basically, Graze delivers you healthy, natural and – most importantly – delicious snacks to keep you satisfied throughout the day. Literally any UK address that can receive post can receive one of their sumptuous boxes. For only £3.49 a box (it's enough food to incorporate into meals)!
One thing that really appealed to the control freak in me (who immediately thinks of tasteless seeds and nuts when told about 'health food'), is that Graze boxes are completely based on your personal tastes. Once you sign up, there is a control panel where you can view all available snacks and specify whether you like, love, or would like to try them (or never receive them!).
The control panel in itself is fantastic, as you can choose which days you would like to receive snacks, specify holidays, and search through a huge list of foods that are split into helpful categories. The categories are designed to specify whether snacks are packed with omega-3s, fibre, a 'sweet treat' (but still super healthy!) and many more fun, enlightening categories.
My very tasty first week went as follows (check the site for each pocket's content):
Monday
Jaffa Cake
Pina Colada
Omega booster seeds
Toffee apple
Tuesday
Sour mango tangtastic
Eleanor's apple crumble
Super berry detox
Fruity ploughmans
Wednesday
Black pepperdoms
Fruit and seed flapjack
Fennel seed and honey peanuts
Savoury roasted seeds
Thursday
West country cheddar, red onion and chutney focaccia
Banoffee pie
Honeycomb flapjack
Friday
Natural vanilla seeds
Little figgy went to market (Probably the most delicious thing in the world)
Hot cross yum
Beach bum
If you would like a free box to try, Graze have graciously provided me with the coupon code "CBJ8XLL" which you can enter and also get your second box half-priced!