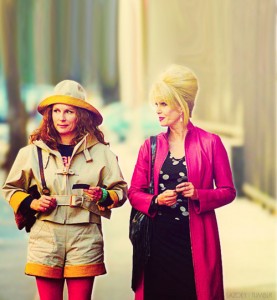 It's finally time! After what seems like a seven year wait – oh…it has been seven years – Absolutely Fabulous is coming back to television! Though the Christmas specials were announced earlier in the year, it has just been confirmed that Stella McCartney and Emma Bunton (that's Baby Spice, to us) will both be making cameos, as well.
"It's not exactly my idea of fun, but it's Ab Fab, and how can you say no to Ab Fab? I'm sure I'll be terrifying, but, you know."
– Stella McCartney
Stella's part will supposedly take place in a scene where Patsy and Edina visit a Stella McCartney store, while Baby Bunton will be playing a friend of Edina's perpetually suffering daughter, Saffron.
Check out Edina getting social in the trailer, sweetie darling.