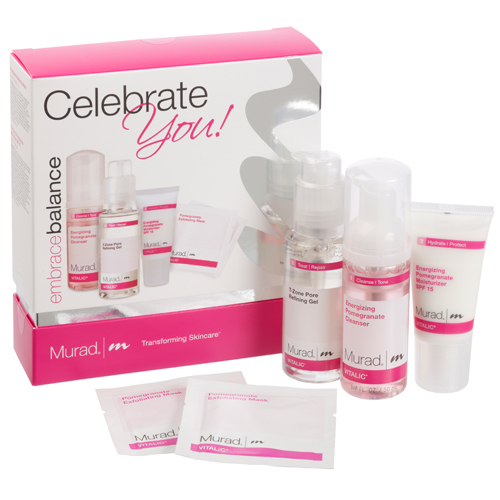 I have been a mega-supporter of Murad for years, and couldn't wait to get my hands on their "Celebrate You! Embrace Balance" set as soon as I laid eyes on it.
So, yes, it is intended to keep shine at bay – a problem I don't suffer from – but since it is suitable for normal to combination skin, I was safe in the assumption that my skin would have no adverse reaction. The products themselves live up to the Murad name – a 50ml Pomegranate cleanser, 30ml Pomegranate moisturiser (with SPF 15), two sachets of the Pomegranate exfoliating mask, and a 60ml bottle of T Zone Pore Refining Gel. Typically, these products would add up to £78.53, but because it is in a set it is only £39.50 (the refining gel's retail price is £47 alone)!
The kit is fabulous. You only need the smallest, pea-sized application of each of the products to see clear, fresh – and what I would consider to be 'zesty' – skin. A long-lasting collection to cover all your skincare needs.
Tip: Use the pomegranate exfoliator for 4 applications per sachet. The sachet can be folded over after each use to retain freshness!