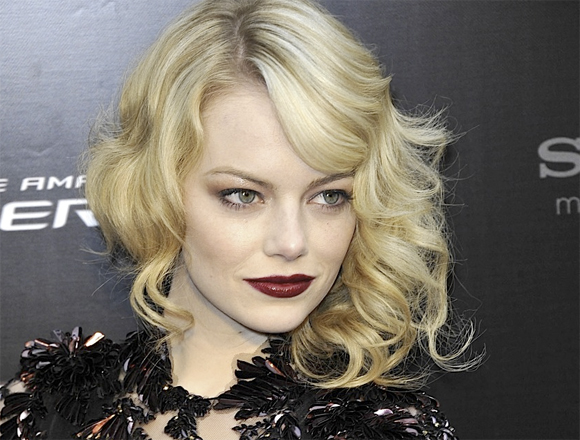 The lovely Emma Stone caused a bit of a stir this week when she turned up to the Parisian premiere of "The Amazing Spiderman". A lot of fashion critics felt her lips were a tad too strong for her fair skin. I, however, love this look so thought I would share my recreation with you!
Get The Look:
1. Super matte and flawless skin: NARS Sheer Matte.
2. Skip the blush, this is a strong look so you will only want a bit of a contour under your cheekbone: Dior Sunshine bronzer.
3. Blend eyeshadow on the outer corner of your eye as if were a wing. Use a lighter shadow to blend it under your waterline and above your crease: The bottom two shades of Shiseido Silky Eye Shadow Quad.
4. Use a soft grey eyeliner on the outer edge of your top lashline: Urban Decay 24/7 shadow pencil. Add mascara: Modelco Fibre lash.
5. LIPS! Use a clear gloss if desired, but I left mine matte: MAC Prince Noir.