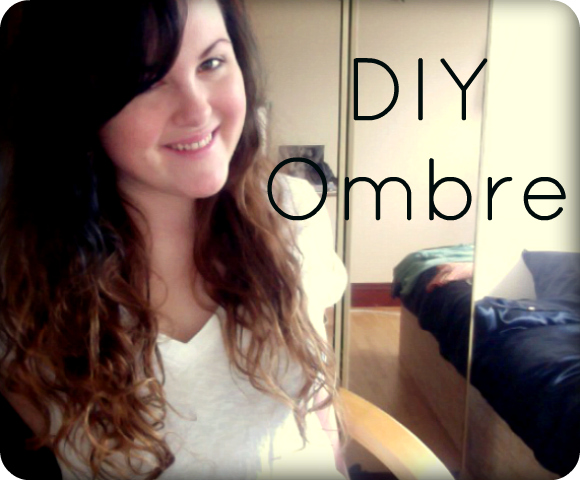 Over the past month I have been working with Dove on their new hair colour range, Dove Colour Radiance. To test the wear and tear of my hair while using the products, Sophia Heffer (of London's coolest hair salon, Kennaland) coloured my hair into a multi-tonal copper wonderland. Long story short: both the products and my colour were a dream throughout the entire month.
Contractually, I wwasn't allowed to colour my hair through the product trial. Wanting what I couldn't have, of course, I promised myself that when the 30 days were up I would have a little fun with my hair. That day was Friday.
A DIY ombre seemed just the ticket. Knowing that my long hair would break off if I attempted a bleach dip dye, I opted to do a bit of a 'reverse ombre' and dye the top section of my hair darker. For further hair security, I chose an ammonia-free semi-permanent colour. I find that Garnier Nutrisse HerbaShine lasts about two months and causes little damage to my hair, making it my concoction of choice.
How to: DIY Ombre Hair at Home
1. Choose a colour at least 2 shades darker than the ends of your hair. I opted for Herbashine's Blueberry Black because the ends of my hair were quite warm and knew a cool tone would produce a more noticeable contrast.
2. Brush your hair out into the parting that you usually wear. If you hair is curly or tangly, straighten before dying to avoid colour mishaps.
3. Apply the dye from your roots to the bottom of your ear. Wait 5 minutes.
4. Add more dye 2 inches below the ear. Wait 1 minute.
5. Starting at the top of the ear, use a comb to lightly brush the dye down the hair shaft. You can comb down as far as you like. Personally, I chose to stop a few inches above the bottom of my hair to keep a stronger contrast. Wait 1 minute.
6. Wash out – starting at the tips of your hair – until the water runs clear.
7. Apply a deep conditioner. If you're using Herbashine, you'll be happy to know that the conditioner included is of WOW quality. My hair felt as soft as the water running through it.
8. Ta-da! Ombre hair!
It took under 15 minutes for the entire process and the results were amazing. I actually fell in love with the blueberry tones and shine of the dye and ended up dying my entire head in the colour yesterday! See below.