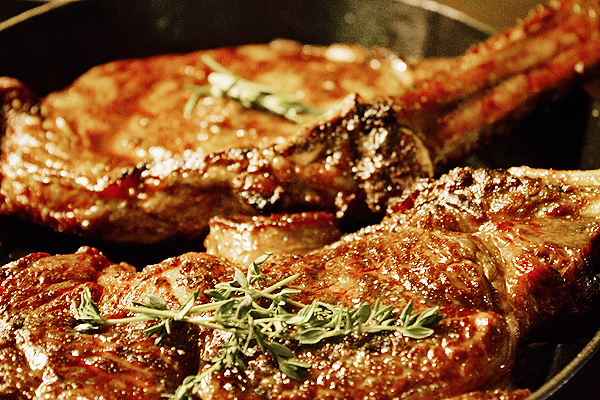 There is something rather Mad Men about descending the red staircase into the belly of London's MASH (Modern American Steak House). In the site where Titanic used to rule, MASH – Denmark's meatiest export – has been restored to full 1930s Art Deco glamour with many original features still in place. With three-hundred covers and a separate bar which can accommodates a further fifty guests, this has to be London's go-to address for colossal cuisine.
Shimmying into the red leather banquettes, we were quickly welcomed to peruse their meat cabinets of prized Australian, American, Danish and Uruguayan cuts while receiving a little steakhouse education to assist our ordering. For an American-branded restaurant I was surprised to order from a list of French-reigned starters but could not fault a perfectly seasoned and sizeable Foie gras terrine that echoed my purist foie gras experiences in the South of France. Paired with with a highly recommended glass of Kung Fu Girl Riesling (a crisp white with a penetrating fruity aroma), I wouldn't dare criticize the un-American dish. In between bites of fresh bread sprinkled with an excellent smoked salt, my dining partner enjoyed an uncomplicated linguine with tiger prawns, tomatoes and chili until the plate returned to white.
Then, of course, came Steak o'Clock. After deciding to share a medium-rare Danish long bone ribeye and Nebraskan ribeye, the two arrived topped with a sprig of fresh rosemary along with sides of bone marrow (bland), corn sauté with bacon, fried jalapeños (the antithesis of bland – a perfect accompaniment), and creamy spinach. Unanimously, the Danish long bone stole the show and seemed to disappear faster and faster with every slather of MASH's iconic Bearnaise sauce.
And, because no real American can say no to a cheesecake, I chose not to refrain from MASH's lachrymose version. I was pleased to find the melt-in-your-mouth cake paired with an incredibly light raspberry sorbet and scattered strawberries that were nowhere near as syrupy-sweet as their conventional American counterparts. Possibly under the influence of a glass of Domaine de Grange Neuve Monbazillac, my friend had opted for a mix of mascarpone, liquorice and peanut butter ice cream. Though I believed myself to be a liquorice-hater, I fell head over mouth for the combination of peanut butter and liquorice. This newfound liqspect resulted in one too many sips of its cocktail compliment, the Lakri-Licious; a mix of white rum, liquorice from Johan Bulow, elderflower liqueur, cherry heering coffee liqueur, chilli-infused Galliano Authentico, and lemon juice.
Suitably fed and watered, MASH may top their bills with the slogan "The Damage" but you will be more than happy that the damage is done.