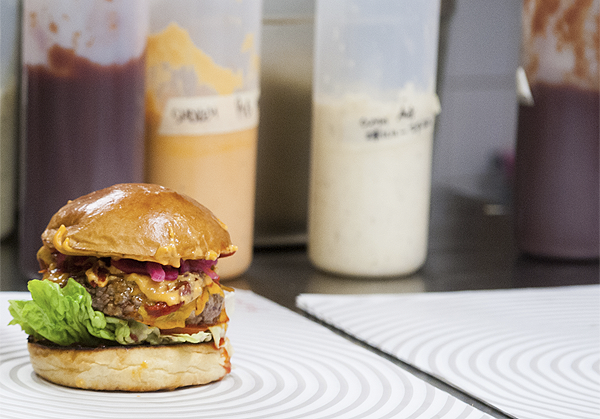 Though I am in no way a fan of 'fast' food, Central London has been having a party over its patties at the moment. Naturally, an investigatory indulgence was necessary.
While many of you know that I typically live on a diet of whatever superwholefood is the talk of the town, a meat mission is more than welcome when said indulgence is in line with some of the biggest eating out trends of the last year…
Street food revolution
There has been an incredible buzz around pop-up restaurants and street food over the last year and a half. Hanging around the South Bank – and Leather Lane or Whitecross markets in particular – have offered up some excellent street food experiences.
Taking cues from festival fare (which used to be the kind of place where you'd expect little more than a soggy chip), the street food revolution has had all variations of magazines and blogs bigging-up the gargantuan number of homemade gourmet food trucks popping up faster than the norovirus; everything from home-smoked salmon to bespoke cupcakes.
Burgers and diner food
One huge trend that has been impossible to deny is the rise and rise of the burger. American diner food seems to have enjoyed a hugely appreciative leap in popularity (The Diner being my all-time failsafe) that has become a marker of its own on street stalls nationwide.
As it is to be expected, Central London is leading the charge in this respect. Hugely popular street food stalls which have chosen to specialize in ultra-fancy, ultra-hulking great burgers are now opening up their own restaurants – and all, fabulously, seem to be a stone's throw from Selfridges!
It seems like a strange combination – to find a classy burger bar next to a top department store, or right on the doorstep of your luxury, central hotel in London – but so they are!
If you don't take my word for it I suggest a quick look of any food magazine and London insider site – they've got these burger spots featured up alongside their classiest hotels on offer. (Secret tip: check LondonTown.com for unadvertised, massive discounts on 4* and 5* hotels in the city centre – great for an impromptu treat…)
Where to go
Marylebone is the place to be if you want to jump on this trend; I suggest Meat Liquor (which stays open until 2am) or Patty & Bun, which recently opened to a rave review from Time Out.
Queuing in Central London at half midnight for a place in a burger restaurant was a new experience for me, but the reservation-free Meat Liquor was definitely worth it. Lower East Side décor meets a buzzy and intimate London vibe…with servings of possibly the biggest and juiciest burger I have ever seen.
Patty & Bun (which, like Meat Liquor, started as a food stall) has just opened on James Street and also doesn't have reservations. Rumour has it that the chips – hand-cut and glittering with salt – are a competition for the burgers and their brioche buns/ classic bread patty casings, but I have yet to find enough room for both.
What is your best burger in town?