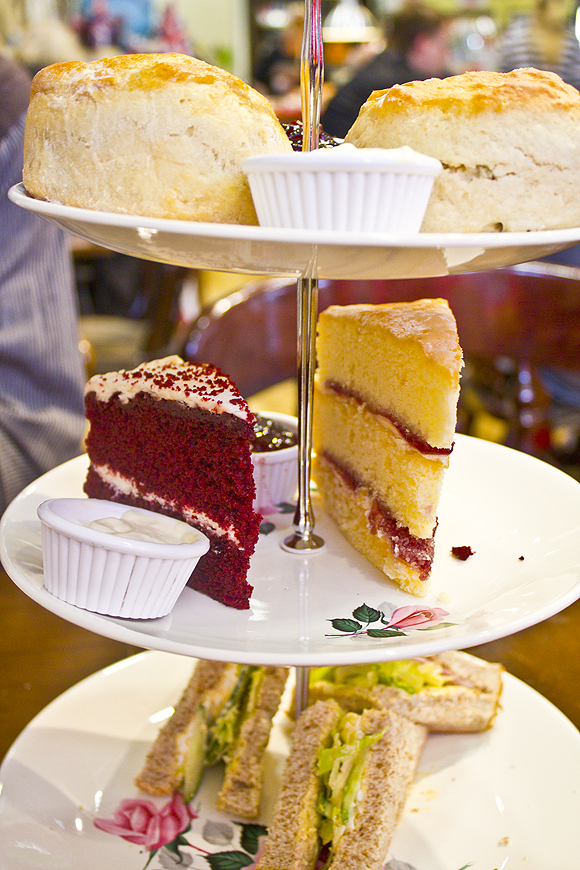 Because Monday seems like an incredibly strange day for a 'date', The Manfriend and I thought we would test it out. By working all of Sunday, we sedated our workaholic guilt and booked yesterday out for each other.
Living on the edge of London, it is pretty hard to find local date spots that offer more than a greasy spoon. Deciding we would work our way into Central London throughout the day, however, we created a mini adventure. Gluttons for afternoon tea, we originally planned to head towards Eaton for Doll's House on The Hill (a hidden gem) only to discover they are closed on Mondays. In a Metropolitan Line state of mind (and hunger), we made the quick choice to head towards Uxbridge for a little pop-up shop called "The Forties Tea Room" (no website). Located in a shopping centre and boasting a strong over-50s clientele, expectations were ravenous but low.
We were pleasantly surprised. With mismatched cutlery and delicious home-made treats, the Forties Tea Room was charming as could be. Because the cafe was set up to raise money for the RAF Bomber Command Memorial and Maintenance Appeal, you have an excuse to break the diet, to boot.
After filling ourselves to the brim, The Manfriend and I headed up to Oxford Street for a spot of shopping (Jigsaw purchases revealed soon!), traipsing, and drinks.
Drinks of epic proportions. Blog readers and loved ones…let me introduce you to Adventure Bar. We escaped from the perpetual drizzle in the Covent Garden branch, but I am positive that they are all as fabulous. Happy hour is 5-7 (two for one), music is on point, staff are high on life, and drunkenness doubles as dessert. You simply must go.