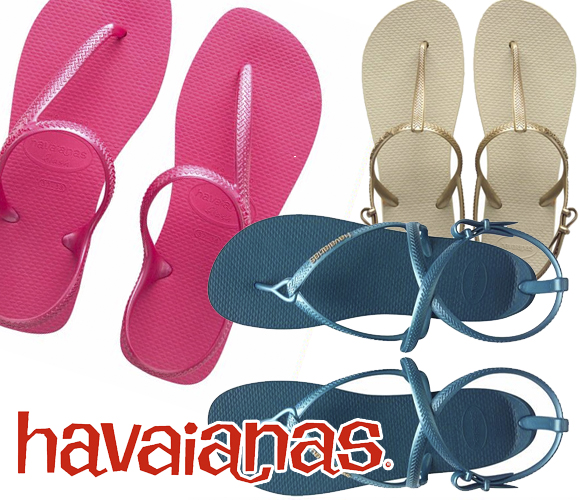 I'm sure that Havaianas need no introduction. The fifty year old (round of applause!) sandal specialist is the most prolific brand of its kind. In fact, the 'textured rice' look of the soles became so popular (and therefore, knocked off) in the 1970s that the brand adopted the slogan "The Real Ones".
The brand has gone from strength to strength and you can now find a Havaianas store in over 60 countries. Obviously, I had tiny heart attack when they asked me to collaborate on their Happy Fashion campaign.
Essentially, Havaianas have decided to add a few fashionista-friendly designs to their extensive list of sandal styles. From twisted straps to metallic finishes, Flash, Freedom and Grace really don't belong in the 'flip flop' category.
Flash urban model: With a strap like we've never seen before, it is the it-sandal that stands for a cool city look.
Freedom model: The most effortless of all three, with an adjustable strap, ultra-comfortable sole and a perfect shape.
Grace model: Inspired by gladiator sandals, Grace has a new locking system that allows you to roll the strap around the ankle… sexy.
In fact, I have styled all three pairs of Havaianas in the video below!

And now for the fun…
WIN!
TWO PAIRS of Havaianas sandals and your competition picture (see below!) on the Havaianas European official blog, Havaianas European official Facebook page, and LelaLondon.com!
To enter:
Send me an e-mail (lela at lelalondon DOT com) with a photo or mood board of the best 'look' you would choose to wear with Havaianas sandals.
For extra extries, "Like" my page on Facebook and follow me on Twitter, and leave a comment below with your usernames! (1 entry each)
The contest is open worldwide. You have until July 16th to enter. Please make sure you comment with your valid e-mail address.