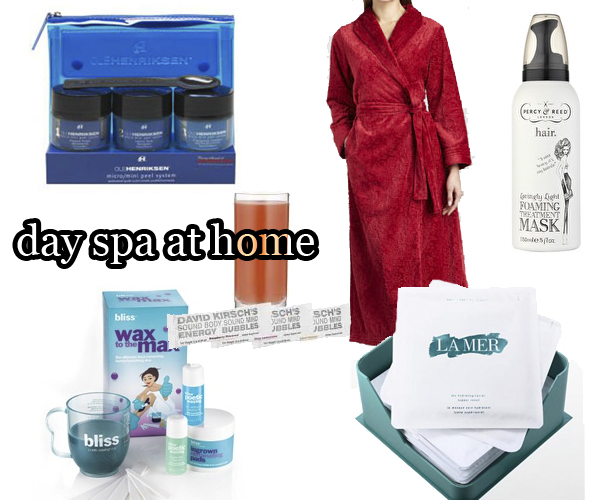 Spas are a major guilty pleasure of mine. If money was no object I am sure I would never leave them (I spend a lot of time on SpaSeekers pretending to live out said fantasy). Because I have yet to procure a Real Housewives-sized bank account, however, I spend a lot of weekend time trying to school myself on the latest treatments and recreate the spa experience at home. Without these little home spa days, I think the bathtub would be completely neglected.
A few of my latest home spa finds:
David Kirsch Super Juice:
Because every spa seems to offer some form of juice/tea to help you unwind, it is a smart option to invest in David Kirsch's Super Juice. The packets are infused with green tea and, in effect, replace all of your traditional vitamin pills, delivering all your vitamin, mineral and nutrient needs to enhance digestion, metabolism, fight free radicals, and enhance the health of your bones, skin and eyes.
Oscar de la Renta Scrollwork Robe:
Considering I am in it for at least 10 minutes every day, my robe is the most worn item in my wardrobe. By cost-per-wear thoughts, that completely justifies this plush Oscar de la Renta Plush Velour robe….right?
Ole Henriksen Micro-Mini Peel Kit:
All skin types can use this innovative 3-step skin peel programme from Ole Henriksen. The Micro Mini Peel Kit offers professional grade microdermabrasion that includes an almond polish, lemon strips, and a chamomile comfort mask. The secret behind luminosity, and one you can use multiple times!
Creme de la Mer – The Hydrating Facial:
If you're wanting a full-on facial, Creme de la Mer's is one of the most sumptuous around. The kit includes six pure cotton masks which utilize Hydrating Ferments and tourmaline and potent marine extracts to help diminish visible signs of ageing. No other moisture-giving mask could has made my skin feel as supple.
Bliss Wax To The Max Set:
Forget the ridiculous pre-waxed strips and 'creams', this waxing kit is spa-strength and includes a bliss poetic waxing at-home hair removal kit as well as a jar of bliss ingrown eliminating pads. Easy to use, super effective, all with no cause for red cheeks!
Percy & Reed Foaming Treatment Mask:
Healthy body, fresh face, waxed in all the right places…how about a final treatment to use in your 'rinse-off' shower? This foaming treatment mask by Percy & Reed is a lightweight yet rich conditioning treatment designed to add volume and shine. It only requires 5 minutes once a week, but the results would have anyone believing you get daily blow-dries.