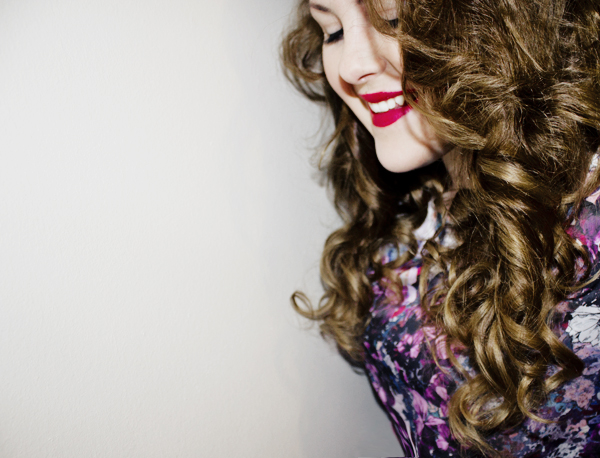 So we kind of have a backwards how-to going on here photo-wise, but we innately only really care about the 'after', don't we? Ahead of Mother's Day 2013 (March 10th – don't forget!) heat-free hair curlers brand Curlformers have kindly sent me their Extra Long & Wide styling kit to review. This kit comes with two application hooks and therefore is a perfect beauty tool for some fun mother-daughter bonding.
Curlformers have an awesome step-by-step guide if my photos don't make it crystal clear, but it really is as easy as loading up a hair clamp with a colourful 'Curlformer', looping your slightly damp hair through, then letting the curl set without causing any heat damage! I find the curls a little too 'Toddlers and Tiaras' when they pop out, but love the results after running my fingers through my hair a few times to break the curls up. (Their Twitter feed, surprisingly, shows a lot of ladies with lots of love for the super tight curls!)
Mother's Day Makeovers at Home: Curlformers' Top Tips
• Make sure you have plenty of refreshments to hand – needing to get up half way through makeup application or hair styling is hardly ideal! Why not get some wine or champagne in (for Mum only, if you're under the legal drinking age!) to make her makeover experience really indulgent?
• You should set up everything you need in a room where you will not be disturbed. Other members of the family may interrupt if you do the makeover in the living room or kitchen, so you should work your makeover magic in in your own – or her – bedroom. The reveal of the makeover results will be more exciting too!
• Ensure you have plenty of fashion and celeb magazines to hand also. This will ensure Mum has lots of hair and makeup inspiration. Having a good variety of cosmetics too will mean you'll be able to create her chosen makeup look.
• Invest in a set of Curlformers to transform mum's locks into a bounty of beautiful curls. Spending time applying them (approx. 20 minutes) will give you the chance to talk and bond (talking during makeup application can see smudges and other mistakes occur!)
• Since Curlformers should be applied to damp hair, why not also wash mum's hair? Buying some premium quality hair care products for the occasion (even if they're just travel sizes) will make her feel really pampered!
• Don't try to make mum look too young. Hair and makeup which is teen-orientated could actually make her look – and feel – older than her years!
• Buying a new dress to complete your mum's new look would be ideal. You might think this would be costly, but why not look in the sales, or on eBay? Even if she does not like your choice…well that's all part of the fun, and it won't matter if you've only spent a few pounds on it!
• Be sure to tell her how great she looks after the makeover is complete – the day is all about making her feel extra special after all!
• Why not let your mum make you over when you've finished her transformation? Mums usually want more say over their child's appearance (especially during the rebellious teen years) so give her the opportunity for once. You might even like the look she comes up with for you!
Keep an eye out for my giveaway to win a Curlformers styling kit of your choice (!), launching soon.