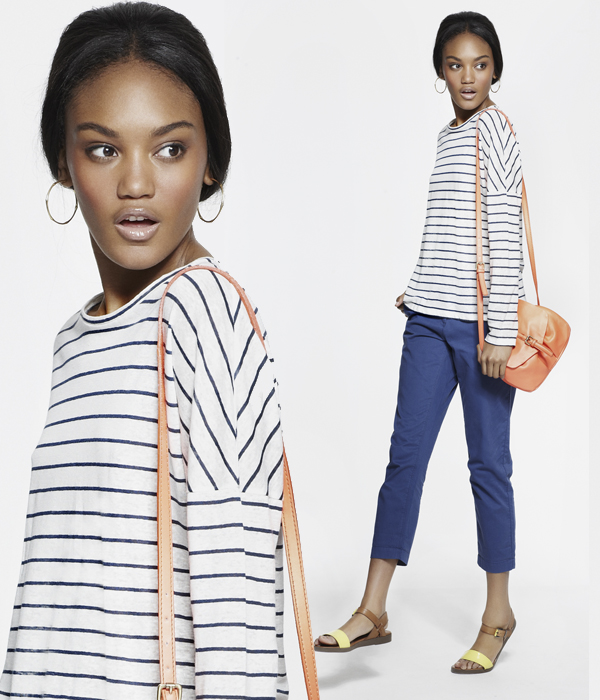 You only have to watch a couple of weekend TV Eighties films to learn that men's shirts can actually look quite hot on the opposite sex, but which items can we borrow from our men friends to nail the spring/summer trends? Below, a John Lewis guest blogger finds out…
Simple stripes
One of the keys to unisex dressing is to look to the classics as simple style staples. And it doesn't get much more classic than the Breton striped jersey top. Having borrowed the look from French sailors, Coco Chanel is credited with bringing the navy and white stripe top into women's wardrobes during the 1930s. And it remains a timeless piece for both men and women, featuring regularly as a base item at Fashion Week shows, in street style and celebrity photos and as shorthand for off-duty style within magazine shoots. For spring/summer, Hackett London and Margaret Howell are among the top menswear designers to champion the style, so fingers crossed there'll be plenty of stripes to steal from your man's wardrobe.
Outerwear to share
While sharing separates can often cause problems with fit – where are those curves supposed to live? – outerwear is more forgiving. And this season's top trends accommodate both male and female style concerns. Another lesson from the fashion bible of mademoiselle Chanel, the tweed jacket – central to the English Heritage trend – works just as well for ladies and gents. Oversized leather jackets are key to that covetable 'just rolled out of bed' rock chic look. And this season's top outerwear style, the bomber, offers a Fifties-inspired look that can add urban edge to pretty dresses or fashion-forward interest to your jeans and T-shirt combo.
Pop art prints
Sixties style is back in a big way for spring/summer 2013, and that means more than just flower power shifts or micro minis. Bright and bold prints reminiscent of magic eye challenges were in abundance at Jonathan Saunders' s/s showcase – updating cardigans, suit jackets and trenches – and Nicole Farhi's geometric patterned jumpers could work just as well on women after that geek chic mod look. Statement knits and blazers in light summery fabrics are the key pieces to look out for here – if you both love the trend, perhaps you could even go halves on a shared purchase!
Sponsored post.