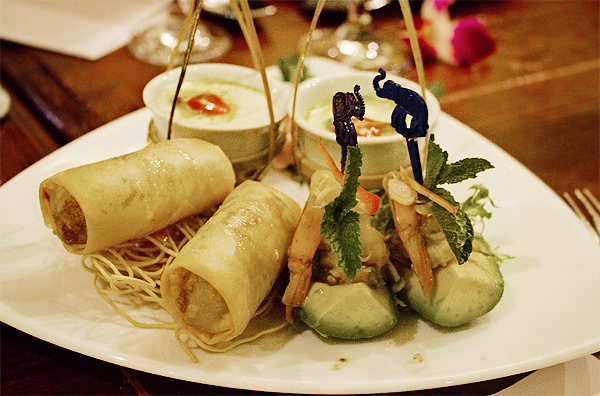 Thanks to nine months of living in (and eating through) Bangkok I have become one of London's pickiest Thai foodies. Don't get me wrong, I taste and trial at every opportunistic corner of The LDN but sadly find that little compares to authentic Thai food.
Personally, a visit to Blue Elephant was the Ultimate Thai Test. Now open for over 25 years (having recently located from Fulham Broadway to a beautiful riverside spot at Imperial Wharf), many people consider Blue Elephant to be London's go-to for excellent Thai food.
After previewing and gorging my way through their Valentine's Day menu, I now feel the same.
Nestled in an exotic Thai-themed room of Asian antiques and objets d'art, we were first presented with a zakuski of Tom Yam Koong soup with tiger prawns and a flavorful hit of dong quai alongside a small sampling of Chef U-La's homemade green-curry and vegetable-stuffed pastry. The familiar sour spice mingled beautifully with the herbal pastry and was right on par with every Tom Yam dish I sampled in the Thai capital.
As a Valentine's menu, both the starters and mains are perfectly paired for two. As well as a surprisingly sumptuous steamed egg custard with foie gras (topped with homemade strawberry sauce), the large range of starters included deep-fried duck, black mushroom and celeriac spring rolls, steamed floral-shaped dumplings stuffed with minced free-range chicken and aromatic herbs "Chor Chom-Pu Black Chicken", as well as a 'Plah Koong' avocado salad with prawns, lemongrass, coriander, mint and kafir lime leaves wish I would happily eat every day of my life.
Accompanied by crab-meat and celeriac-infused jasmine rice and pak choi, the mains kicked things up a notch…
1) A rich spicy lamb shank curry with black wild ginger (apparently known for it aphrodisiac properties).
2) Grilled black cod marinated with Korean ginseng, wrapped with banana leaves, and accompanied by caramelized golden tamarind and crispy shallot dip
and…
3) "Love Drunken Prawns" so large you could keep them as pets. The stir-fried dish featured a homemade paste of bird's eye chilies, shrimp paste, black wild ginger, kaffir lime, sweet basil leaves and a hint of rice whisky, culminating in my favourite dish of the evening.
By the time dessert arrives, you will be more than happy to split the heart-shaped treats in two. Their Panna Cotta – flavured with Royal Jelly and vanilla pods from The Royal Project Farm – was the only thing I was able to polish, but the eclairs (filled with rose-flavored cream) and young coconut jellies proved to be popular among my dining companions.
If you are interested in a spicy evening this 14th I highly recommend this £69.00 per person menu (with vegetarian options available).