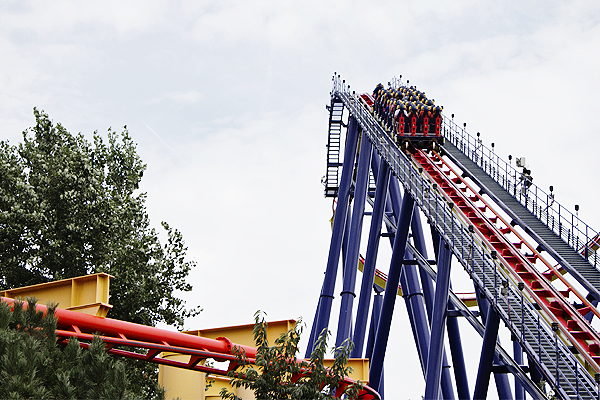 As a teenage thrillseeker, some of my favourite Summers were spent sweating it out in the lines of Kings Island theme park in Mason, Ohio. Roughly two hours from our front doors in Indiana, my friends and I would load our cars full of SPF and Twizzlers to cross those state lines as often as our part-time jobs allowed. While Alex and I were planning our US Road Trip, Kings Island appeared to be the logical first stop on the road.
As per usual, Google presented us with a better option. Just one hour above Mason (and one hour closer to our next stop) lies Sandusky, Ohio; home of Cedar Point, recently crowned Best Amusement Park in the World for an unprecedented sixteenth year in a row. Sold.
Though I had never been to Cedar Point, the 364-acre theme park has enough on offer to entice you – across an ocean – from website alone. Taking up a rather enormous peninsula on Lake Erie, we knew we wouldn't be able to 'do it all' in one day so focused our sights on the biggest and baddest roller coasters around. Ranking their coasters from 1-5, we kept our eyes peeled for high (4) and aggressive (5) thrills only.
Best Roller Coasters at Cedar Point
Mantis: You stand up on this one. You stand up in loops, drops, and twists. It is unlike anything I have been on anywhere.
Mean Streak: I love wooden coasters but can't stand the head-shaking, body-throwing that seem to go hand in hand with them. By some divine thrill intervention, Mean Streak is smooth wooden roller coaster and architecturally awesome.
Magnum: Being the first coaster to ever top 200 feet, you can actually see Canada from the top of this baby. Pretzel enthusiasts will love this one.
Millenium Force: The King. So long (at 310 feet) that it created a whole new category; the giga-coaster. Worth the inevitable long line, Millenium Force uses a cable lift to drag you up the first hill, drops you down to earth at 80 degrees, then shoots you off at 93 miles per hour. It is insane.