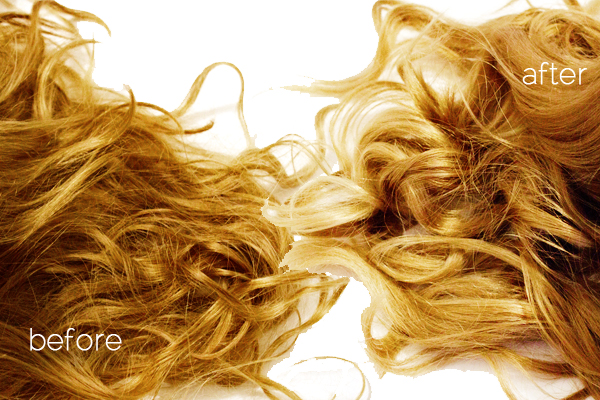 Another day, another DIY beauty project. When I first heard about natural hair lightening with honey, I wasn't convinced. On first thought, honey screams 'sticky mess', not 'golden highlights'.
The proof, however, is in the science. Honey has both a high peroxide value and many moisturising properties, making it an excellent treatment for hair. While you will find it hard to get platinum locks, the honey is an effective hair lightener that also makes it healthier – a far cry from bleach.
The formula is simple: Mix one part raw/natural honey with four parts distilled water. Let it sit for an hour.
Because distilled water has a pH level of 7, it allows the hydrogen peroxide to decompose more effectively when it comes in contact with certain minerals. To boost the lightening effects, you can also add extra peroxide via a maximum two tablespoons of either ground cardamom, ground cinnamon, coconut oil or extra virgin olive oil. (Cinnamon was my personal choice).
The photos say it all. After one hour pulled through the lengths of my hair, I ended up with a lighter, brighter mop of messy curls. In addition to feeling great, the mixture really clung to lighter pieces of my hair and boosted the fading ombre of my previous 'do. I could not be happier with the results.
Tips:
– Avoid using ingredients that contain Vitamin C as hydrogen peroxide oxidizes Vitamin C and is depleted in doing so. Some honeys (Anzer, buckwheat, linden flower, locust flower, mint and thyme honeys) contain higher levels and will, therefore, be less effective.
– Australia's Jarrah honey, if you can get your hands on it, is the best honey for hair lightening (you can thank the high peroxide levels for that one).
– When applying the mixture, make sure your hair is as 'clean' as possible. Any styling products or heavy conditioners will interfere with the honey's chance to produce peroxide.
– Wash your hair thoroughly after the treatment. Residue is not pleasant.