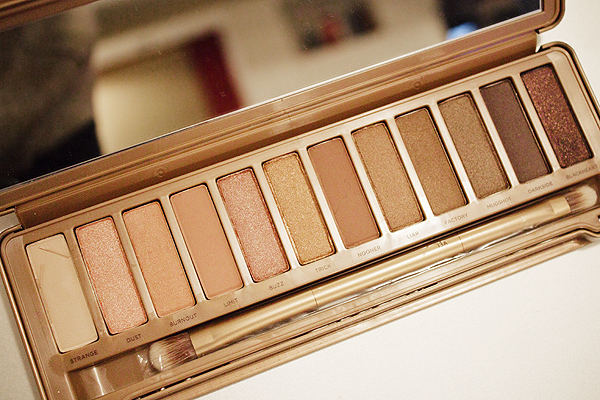 No-one will ever know for sure if Urban Decay predicted the record-breaking success of The Naked or Naked 2 eyeshadow palettes, but now that The Naked 3 Palette release is upon us, the legacy has become a particularly manic discussion point in the beauty community.
I'm simply here to answer one question for you…
Should I buy the Naked 3 Palette?
As I was lucky enough to get my paws on the palette a few weeks prior to its UK release, I have had more than enough time to learn the palette inside and out.
Before we get to the shades themselves, it is worth nothing that the Naked 3 comes with a dual-ended brush (one side a relatively flat shader, the other a fluffy blending brush) and a week's worth of samples for each of their primers – both serving their purpose with no cause for complaint.
While the first two Naked palettes are beautiful, these twelve never before seen shades have slipped on some proverbial rose-coloured glasses, creating a more unusual and sensual selection of neutrals. For my eyes – a hazel/green/moodring sort of thing – and pale skin tone, it is the best out of the three.
Shade breakdown:
Strange – A pale neutral pink matte-satin. Very finely milled and what I am sure will become a nice alternative highlighting shade for many women.
Dust – A pale metallic pink shimmer with iridescent micro-glitter. The only one I will be steering clear of. Though the colour is pretty, the texture is too powdery to use without a dampened brush. The 'micro-glitter' doesn't feel quite as micro as it does in other shades.
Burnout – A light pinky-peach satin. Like a pearl! It has an above-average colour payoff, making it a staple neutral if there ever was one.
Limit – A light dusty rose matte. Quite a cool undertoned matte, and a shade very unusual to any in my current colour. The kind of shade you'd use to pump up a basic smoky eye.
Buzz – A metallic rose shimmer with silver micro-glitter. I love the micro-glitter in this one; it turns the coppered shade quite metallic and has none of the fallout I expected. In fact, it is almost buttery to the touch.
Trick – A light metallic pinky-copper shimmer with tonal micro-sparkle. Something kind of wonderful. It's brown… it's gold… it's destined to be your Night Out BFF.
Nooner – A medium pinky-brown matte. The kind of shade I would imagine Cara Delevigne keeps in her handbag for a quick swipe of cool.
Liar – A medium metallic mauve shimmer. Very similar to MAC's Smokeluxe (which I love). There is a very pretty sheen of gold and grey on this one.
Factory – A pinky-brown satin. Very rich in hue, with a slight red undertone that makes it a gorgeous crease shade for pale girls and all-over eyeshadow for darker skin tones.
Mugshot – A metallic taupe shimmer with slight pink shift. The special brand of multifaceted shade that will make brown eyes sparkle (not easy to do with a brown eyeshadow, pals). Excellent colour payoff.
Darkside – A deep taupe-mauve satin. It blends perfectly and – thanks to its purple tones – brings out all sorts of aqua green colours in my eyes. It looks lovely when used as an eyeliner.
Blackheart – A smoky black matte with rosy red micro-sparkle. ABSOLUTE MAGIC. I am always inclined to abandon the darkest colours in eyeshadow palettes (I don't really have the lid space to stop them from looking gothic), but Blackheart is the exception. Like a juiced up version of MAC's Black Slip, it's the sparkly burgundy of your dreams.
The official release date for the UK is December 16th (at House of Fraser, Debenhams and online stockists of Urban Decay), so if the US release is anything to go by*, I would suggest setting your alarms now.
*Chaos. Sold-out chaos.