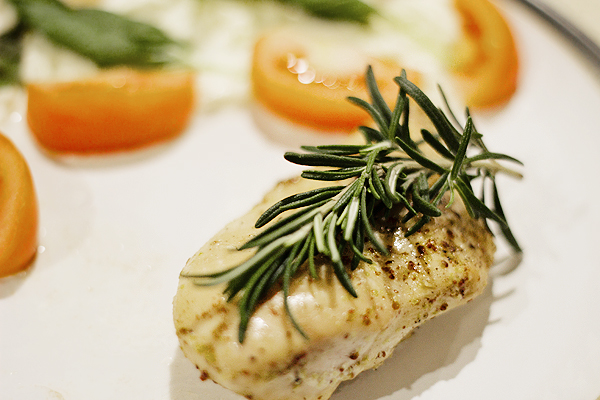 Much to my disapproval, I seem to frequently get into situations where a group of male friends will be swooning over the idea of pizza while I'm dreaming of something – anything – else.
I am not a fan of pizza.
I needed to develop an alternative coping mechanism to picking cheese and olives off of dough. Happy Man Chicken became the answer. This is the easiest, tastiest dish to prepare, and one that has made The Manfriend and his brother lick a plate or two clean.
Suck it, pizza.
Ingredients:
– A package of boneless chicken or chicken thighs
– 1/2 cup of Dijon mustard
– 1/4 cup of maple syrup
– 1 tbsp of rice wine vinegar
– Fresh rosemary
– Salt and pepper
Directions (serves 2-4 people):
1. Oven on. Preheat to 450/230.
2. Mix your dijon mustard, maple syrup, and rice wine vinegar together.
3. Line an oven-proof baking dish with aluminium foil and throw your chicken in.
4. Salt and pepper your chicken (top and bottom).
5. Pour your 'sauce' over your chicken and pop it in the oven.
6. Flip the suckers over and baste them after twenty minutes.
7. After twenty more minutes, make sure the centre of your chicken is done (with a meat thermometer – don't cut it!), then take the meat out and let it rest for five minutes.
8. Pair it with a flavourful side (with Happy Man Chicken, I love a simple Caprese Salad drizzled in balsamic vinegar) and plate the chicken with some fresh rosemary*.
9. Nom away.
* I like to serve sprigs of rosemary so guests/friends can choose their own flavour profile, but some men – like The Manfriend – will literally throw the herbs across the room in disgust. Haters. More for you.