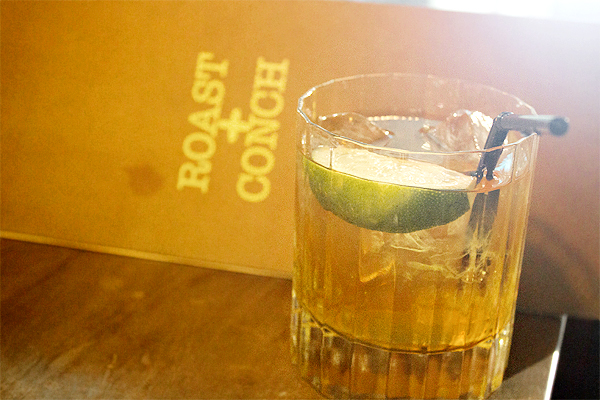 Hotel Chocolat's Leeds restaurant Roast + Conch is, in fact, the best restaurant in Leeds.
When I first heard about the so-called 'chocolate restaurant', I wasn't convinced. I am a savoury-toothed individual and could not think of anything worse than a great dinner dish covered in unnessecary chocolate components. Thankfully, it was all a misconception (and one that most people have shared when I have mentioned the restaurant since).
Rather than chocolate as we think of it, Roast + Conch utilises the bare bones – the cacao bean – in every dish, one way or another.
As the restaurant name suggests, they roast and conch everything on site and in plain view.
On our way to the bar we noticed that they were currently working with cocoa beans from Trinidad and, though we had no frame of reference, we were excited to see what it would mean for our meal. Kicking things off with two fresh cocoa Bellinis (the roast's tangy cocoa pulp mixed with their own Prosecco DOC Brut), we spent some time chatting with bar maestro Jonathan about the bar's impressive selection of cocoa-based spirits, beers and wine. My personal highlight – and something I am desperately trying to get my hands on again – was their chocolate wine, Terra Do Zambujeiro. This red wine was above and beyond all expectations. Instead of being sweet or saccharine, the balance of dark chocolate, smoke, and berries created an incredibly smooth flavour that I imagine anyone could enjoy.
Alas, it was time to head upstairs before we spent our appetite at the bar.
Greeted by our faultless waitress and a few cacao nibs to tickle our tastebuds, we spent a good fifteen minutes perusing the menu before we could make a decision.
I warn you, this menu is empyrean to any foodie.
Settling on three starters for a tapas-style kickoff, we opted for Roast + Conch's Beet Carpaccio, 'Not So Scotch' Egg, and Tuna Ceviche.
The Beet Carpaccio, as a gluten-free and veggie option, was impressive. By pickling heritage beets in cocoa balsamic and pairing it with Ticklemore goats cheese, watercress and roast beets, they created as flavourful a dish as their epic Tuna Ceviche. Having 'cooked' tuna loin in coconut milk, chilli and lime pickle, they sealed the plate-clearing deal by pairing it with a special cocoa nib crispbread.
Though I wouldn't have expected it, this restaurant is truly ideal for vegetarians. My favourite dish of the entire evening – The 'Not So Scotch' Egg – used a simple hen's egg and took it to another level by casing it in softened pearl barley, penny bun mushrooms, and a cocoa nib crumb crust. Elevated by the addition of roast leeks and garlic, there was so much 'wow' in this single plate that I would have been happy to bow out then.
Then, of course, I would have missed out on the 4-Hour Lamb Pepperpot and Chilli Hamburger.
Hamburger? Boring! Lamb? Boring! Just not at Roast + Conch. Chef Bentham's burger is perfection; a chilli and cocoa-infused hand-chopped rump steak surrounded in confit of onion, Montgomery aged cheddar, crisp dry cure bacon, and a homemade 'cocoa pod' bread bun. It was presented on a plate far too long for its own good – with sweet potato ribbons and onion rings sitting bored at the other end – but that is only a photography problem, not an 'oh my god this is not delicious!' problem.
The Pepperpot, served with doughy beer stick bread, was an extremely filling celebration in itself. Though the recipe is an original from the indigenous cocoa-worshipping people of Central America and West Indies, the Amerindians, the spiced vegetables and tender lamb is filled with new-age flavour any chef would be happy to serve.
With eyes much larger than our stomachs, our side orders were almost left behind. Then a scoop of the White Chocolate Mash turned into twenty scoops.
You must order the White Chocolate Mash (vegetarian and gluten-free, again. No excuses!).
At this point, we would have needed a stomach pump to accommodate the things we wanted to eat from the dessert menu. Promising to return on a desserts-only adventure, we called on The Tray of Temptation while rehydrating with a Fortified Coconut Water. The cocktail, though filled with smooth Saint Lucian golden rum, is a simple mix with pure coconut water that somehow feels as innocent as a cocktail possibly could.
When the Tray of Temptation arrived, we – once again – cursed our crowded stomachs. With sixteen of Hotel Chocolat's chocolatier creations available at just £1 a piece, we managed to get through five between us before waving the white flag.
I'm coming back for you, Tray.