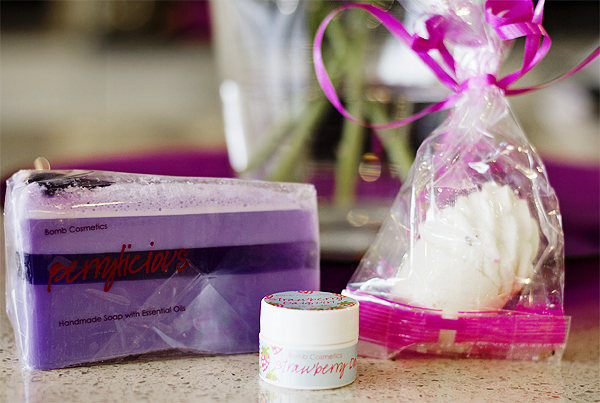 To get the obvious comparison out of the way from the get-go, Bomb Cosmetics is very, very similar to Lush. While both companies create 'handmade and natural' bath products and refuse to test on animals, Bomb Cosmetics are a little bit more kitschy and – delightfully – more affordable.
Each of their products are scent-sational. Ugh, puns…but it's true. The moment my little box of products entered the house, the smell made me smile. There is something very warm and sweet about each of these bad boys:
First, the Berrylicious Soap Cake Slice. Though I never use 'normal' soap (it dries my skin out faster than the summer sun), the ingredients from Bomb's slices are happy skin approved. There is nothing too revolutionary about the product itself (it cleans), but it's smell is delicious; like a caramel-tinged Ribena, the Berrylicious smell is all blackcurrants and strawberries and vanilla.
The product I tested next was the Strawberry Daiquiri Intense Lip Treatment. Again, the scent was a dream but I didn't find myself blown away by the product. 'Intense' is a definite stretch. The consistency is no way near as buttery as the taste. Though I am happy to keep it in my bag for a sweet little pick-me-up, I would never think to use it as an aide for dry or chapped lips.
Thankfully, my brand love was reinstated with the use of the Crazy Chic Bath Mallow. The little cupcake-shaped 'Mallows' are not only a genius gift, but they are super moisturising, as well. Unlike both bath 'bombs' or 'drops', the 'Mallows' release quite slowly – over five to ten minutes – and create beautifully silky bath water. The Crazy Chic is a blend of a lot of different components (I picked up a lot of ginger blossom, vanilla, lavender, and tangerine) but it balances just perfectly.
I think it might be time to restock my bath cupboards.