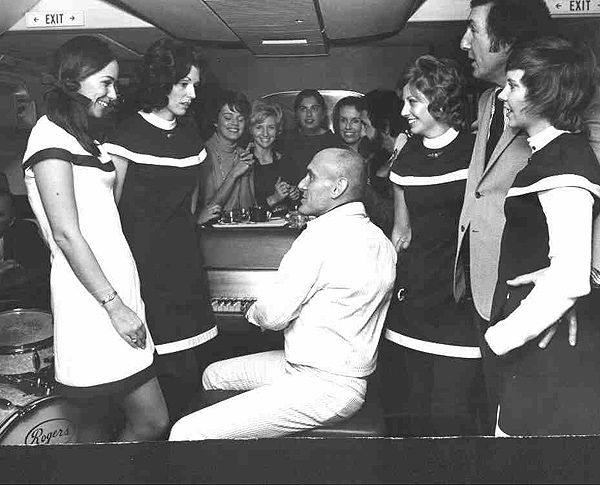 There are some absolute gems in the Boeing archives and – though I have always loved flying – I would trade any of my in-air memories for a shot at experiencing a 747 flight in the 1970s.
While the 1930s Boeing Clipper had everything from a powder room to a dining room (pictured in black and white, below), things got phenomenally jazzy in the Seventies. In the vintage American Airlines 747 Coach Lounge Commercial below, NBC's Chet Huntley pimps out the airline's Wurlitzer piano bar while The Fonz offers a fellow traveller a light…
It's all very smooth…and very Don Draper.
For First Class, the Boeing 747's small upper deck was turned into a cocktail bar in the sky; all Martinis, steaks, and ultra-modern swivel chairs. On Continental Airlines, there was even a pub.
Please take a moment to listen to Waltz of The Flowers while you receive a tour of the Boeing 747 100 Series' First Class deck…