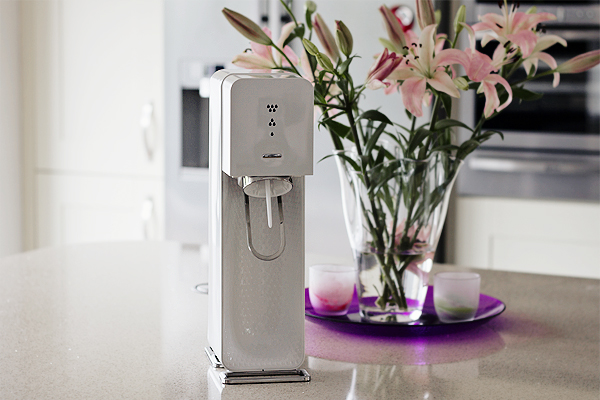 My American readers may have no idea what a SodaStream is, but the Brit collective is likely to have seen one on the counter-top of their grandmother's house.
At least, that's where I met my first SodaStream.
As a child recently diagnosed with Diabetes, the SodaStream held some special magic in my eyes. While doctors had spent the previous year telling me I would never been allowed to drink a sugary drink again (barring low blood sugars), the SodaStream's ability to carbonate water – to make water fun – was otherworldly.
Now, over 100 years since SodaStream's inception (!), I have introduced one into my personal home. Say hello to the SodaStream Source. Designed by Yves Béhar, the Source is the most attractive thing on my countertop (and, in fact, one of the most-used devices in the entire house).
From unboxing to use, you simply slide in the C02 canister, fix your SodaStream bottle in place, then press down on the top of the device until your desired 'fizz' level (shown by a clear LED display) is reached. As well as turning tap water into sparkling water in seconds, the range's addition of Diet flavours, 'My Water' (a range of unsweetened, all natural flavours), and Stevia products has made it one of my favourite cocktail-making companions, to boot.
To Make Fizzy White Wine Sangria with a SodaStream:
Ingredients:
1 bottle of white wine (cheap works – the joy of Sangria!)
1 mango, peeled and diced
1 pineapple, peeled and cubed
3 kiwis, peeled and sliced
1/8 cup minced ginger
1 cup Free Fresh Lemonade SodaStream
Peel and cut all fruit, pour white wine and Sodastream over fruit. Let it sit in the refrigerator for a few hours and serve (with fruit pieces).
To Make a Cranberry Kir Royale (Homemade Liqueur) with a SodaStream :
Ingredients:
3 tablespoons agave nectar
1/2 cup cranberry sauce
3/4 cup vodka of your choice
4 cups dry prosecco, chilled
1/4 cup Diet Cranberry & Raspberry SodaStream
Heat the agave nectar, cranberry sauce, and SodaStream mix together for 5 minutes over medium heat. Let it cool, pour in the vodka, then let it rest – covered – in the refrigerator.
After four days, strain then mixture through a cheesecloth-lined sieve into a small jar, discarding the solids. Spoon two tablespoons of your new liqueur into each flute, then top with your prosecco to serve.
To Make Fresh Cherry Mojitos (Rum) with a SodaStream:
Ingredients:
5 dark, sweet cherries, pitted
10 fresh mint leaves
juice of 1/2 a lime
2 shots of your favourite rum (I love it with Malibu)
SodaStream diet tonic
Crushed ice
Squash cherries and mint to release the juices. Pour wet ingredients over, and top with your tonic. Ad crushed ice to serve.
Happy SodaStream-ing!