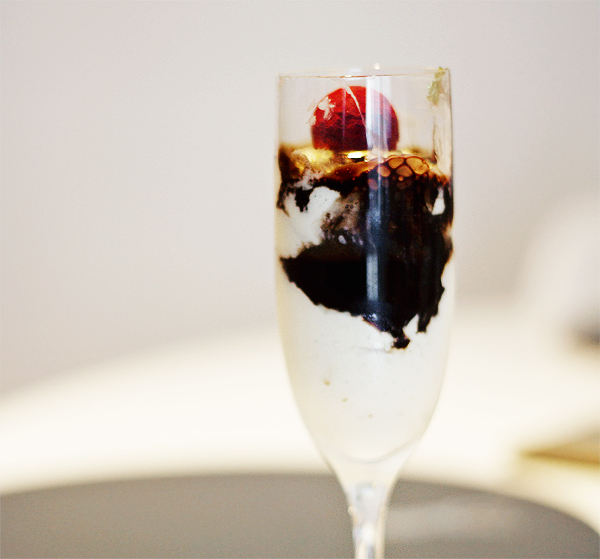 Yes. I have made The Golden Red Velvet Champagne Movenpick Sundae an actual thing.
Why? Because:
a) Every time I see a sundae on a menu, it is loaded with bizarre chemical purees, cheap ice cream, and toppings that add nothing more than a crunch. (We deserve more from our sundaes, ladies and gents!)
b) Movenpick is running a sundae-making blogger competition in which the winner receives a two-hour masterclass with Th Langham's head pastry chef, Cherish Finden. Not even a lactose intolerance could keep me away.
The Recipe
Ingredients (all from Ocado, if you'd like to recreate the recipe exactly!):
– Movenpick Vanilla Dream ice Cream: if you're looking for 'The One' of ice cream, I would suggest nothing but Vanilla Dream. The quality of the Madagascan vanilla that they use is unparalleled, and only the seeds are added to the ice cream after the flavour is extracted. Quality like this – especially for the base of a sundae recipe – is imperative.
– G.H. Mumm Rose NV (you can use any champagne of your choice)
– Sweet Freedom Choc Shot (all natural and low GI liquid chocolate that tastes much more indulgent than it is!)
– Prestat Red Velvet Truffles (I would say you could use any old truffles, but you really can't. These taste like real life cupcakes)
– Edible gold lead (I used Cake Professional Finest Gold Leaf)
Directions:
1. Scoop your Vanilla Dream into a champagne glass, filling almost to the top.
2. Pour a shot (or two, if you're feeling like a lush) of champagne over the ice cream.
3. Before the champagne fully settles into the cream, squeeze a bit of Choc Shot over the top and watch the champagne pull the chocolate through the layers of Vanilla Dream.
4. Sprinkle a bit of edible gold leaf over the top.
5. Finish by topping the sundae with a red velvet truffle. Though some guests might prefer to crush it into the sundae, or eat it as a 'starter', I prefer to save mind until the end so it tastes as if it has been infused with champagne.
Enjoy!