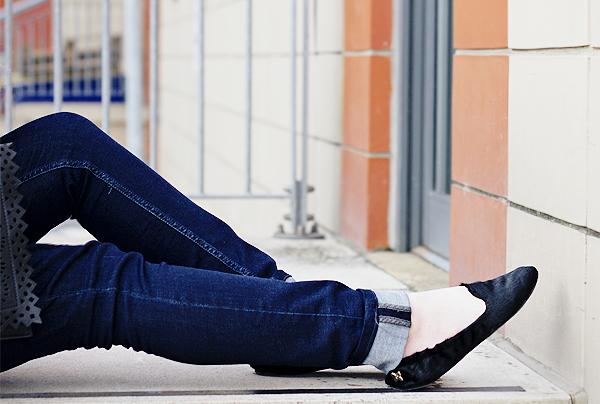 Taking a break from scheduled programming, I wanted to forgo a traditional outfit post to scream and shout about Bethnals and Butterfly Twists.
These two new additions to my wardrobe may just be flats and jeans, but as a woman who has never been able to identify as a flats or jeans-lover, my infatuation for each item is simple testament to the pieces themselves.
On leg? It's Bethnals. The brand (which is very much still a baby) is London-based and was established by Melissa Clement – denim and creative product development genius – last year. After launching a Kickstarter campaign to find investment for production, her unisex denim brand got the thumbs up from all the right people…and now, me.
With denim sourced from ISKO – the highest quality denim mill in the market – Melissa's designs (like the rinsed indigo 'Pete Skinny', shown here) are able to make quality, conscious, beautiful denim a reality at price poiints that bridge high-street and high-end. I am a complete convert.
Shoe-wise, you're looking at a pair of Butterfly Twists.
More specially, the Gabriella flats. Though I will often throw on a pair of reasonably-heeled boots if I'm running around all day, these flats have come as a luxurious alternative. While the brand is known for its post-party foldable flats, these pony hair smoking shoes are quite literally as chic as it gets. The quilted memory foam insole means you feel like you're walking around in slippers, yet the silhouette maintains all seriousness.
Note: no sponsoring of nothing, nada, zip. I just need to share the love.