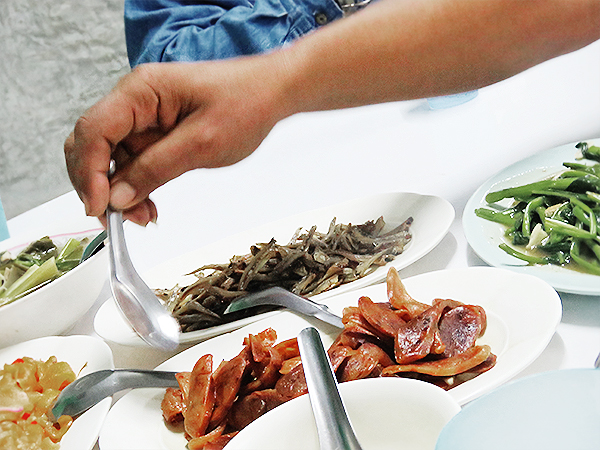 I am all for authentic travel experiences. Sometimes at my own peril. I have both aged my lungs by ten years riding side-saddle through highways in Cambodia and had near-death experiences on cowboy 'visa run' busses.
This was wonderfully, wonderfully different.
For less than the cost of one-way airfare, The Manfriend and I purchased two return VIP bus tickets from Bangkok to Koh Samui. Included in the price? Snacks, juice, water, air con, seats that recline almost completely flat (with leg rests), on-board movies, a toilet, blankets, an authentic & fresh evening meal, and the company of 10-20 friendly Thai travellers.
I understand why people opt for air. Taking a flight is convenient, fast and familiar, while there is very little information kicking around about VIP bus routes.
That is why I'm writing this blog.
For government-run busses in Thailand, 'VIP' simply translates to 'with amenities!'. There are a few kicking around at both main bus terminals (Mo Chit and the Southern terminal), but the one we chose left from Mo Chit. A few days prior, we had paid for our tickets through a purchase order at a local 7/11 so all we had to do on arrival at the terminal was pick up our tickets from the allocated window (there is plenty of help and translation around to quell 'foreigner' worries!).
After picking up a few nibbles (I will marry the person who brings Dunkin Donuts to the UK), we boarded our bus and set off for a surprisingly excellent 12 hour journey.
VIP bus to Koh Samui – The Facts:
– You set off in the early or late evening from both destinations. The bus is designed to be a 'sleeper bus'.
– It is a genuinely comfortable sleep.
– Midway through the journey, you disembark for roughly twenty minutes at a rest stop. Here, you trade your bus ticket in for a delicious, at-table Thai meal (tapas style, shared with others) often bulked up by steamed rice or congee. You can also use the restrooms and buy snacks/general small items.
– For government busses, the price does not include the ferry ticket (but this only costs roughly 150 baht/£3 extra) whereas 'all-inclusive' tourist coaches will hike up the price dramatically.
– Drivers rarely speak fluent English, so go in with the notion that you will follow the actions of a few Thai people on the same bus if you're unsure of what to do or where to go at the ferry terminals.
– At the Koh Samui bus terminal, head for the taxi busses (pictured below) with a Thai printout of your hotel's address to barter the cheapest rates. Avoid the man shouting 'Taxi! Taxi!'. In fact, avoid that man all over Thailand.
– The sunsets and sunrises over Koh Samui (which you should experience either way) are second to none.
My Koh Samui vlog – coming later this week – will spell everything out in more detail. Until then, don't hesitate to tweet me any questions you may have!