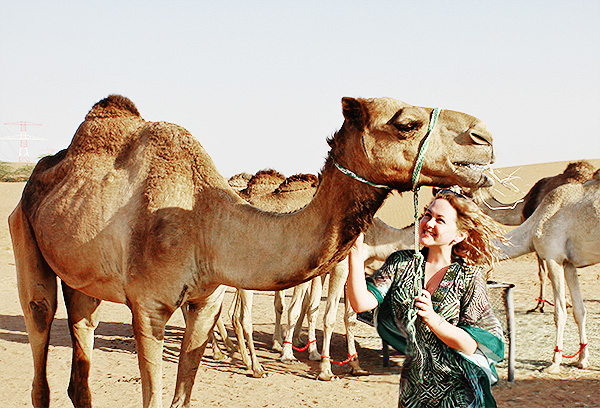 Never heard of Ras al Khaimah? Don't worry. Neither had I.
As travel blogger luck would have it, I found myself invited to spend the weekend in the UAE's most Northern Emirate and couldn't turn down the opportunity to explore a land uncharted by anyone I knew.
With all three days offering up something a little different (you'll get the full run-down in tomorrow's blog), the irrefutable highlight was an afternoon and evening spent in the desert.
Over five hours, my travel companion and I Carmen Sandiego-ed our way through a desert safari like no other. Starting with short trips to feed our hump-backed friends at camel farms, we entered the desert and paused to let the air out of our tyres (a safety must) before buckling every possible part of our bodies into the Land Rover and undertaking numerous madcap leaps over skyscraper-height sand dunes.
Adrenaline well and truly pumping, we took a moment to collect ourselves at the highest point in the desert and let our heartbeats recline as the sand danced around us and rippled the floor beneath our toes.
Neither words nor photos can describe the halcyon that lives at the top of a desert.
Having regained composure, we then set off for a remote desert camp to watch the sun set, get twinning henna tattoos (natch), help the locals make sand bottles for tourism, and enjoy an enormous Arabian-Indian hybrid barbecue alongside belly dancing and the most impressive fire dancing I could ever fathom.
With the option of shisha available as a night cap (not all that boat-floating for the both of us), we chose to chat with the camp owner's very lovely sister before hopping back into the trusted 'Rover with warm bellies and even warmer hearts.