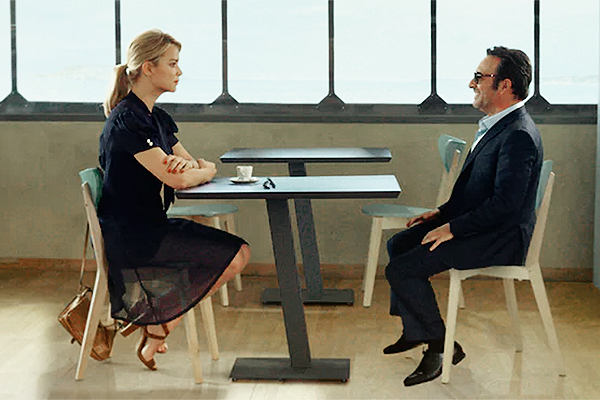 Laurent Tirard's latest film, Up For Love, casts Jean Dujardin (The Artist, The Wolf of Wall Street) and rising star Virginie Efira as accidental lovers after a chance encounter. Having seen the film just before its UK launch, I found a lot of unexpected heart in the story; at four-foot-five, Alexandre (Dujardin) comes with shortcomings to rival divorcee Diane's (Efira) own. And it is dealt with in a moving and honest – albeit sometimes ridiculous – way.
I took some time with the director, Laurent Tirard, to discuss his journey to the height of romance. Excuse the pun.
Lela: Bonjour, Laurent! How are you feeling with less than 24 hours to go until the release of Up For Love?
Laurent: I'm afraid the UK release of Up for Love has been totally eclipsed by another release: that of my third child – a girl – who was born last week and is taking up a lot of my time and attention. So to answer you question: how am I feeling? Very sleepy.
Lela: Oh, congratluations! You actually used to be a film journalist. How do you think this has helped – or hindered – your filmmaking?
Laurent: It has helped in many ways. Watching over a hundred films a year is always a good school, of course. But beyond that, it has allowed me to approach lots of film makers and benefit from their experience. It has also taught me discipline in writing…and to deliver a text on time!
Lela: At points, the film is very emotional and potentially uncomfortable for the viewer. At other times it feels slightly slapstick. How important is it for you to showcase each and at what percentage? Do you ever feel one risks negating the other?
Laurent: I always feel that the most dramatic – or even tragic – subject matters make the best comedies. Comedy works as a relief, it helps us take distance from painful situations and reminds us to enjoy life. But sometimes even that degree of complexity can be contained in the most basic slapstick gag. So, in terms of dosage, or percentage, I guess it's really a matter of intuition. It's not mathematical – you do what you feel – because a movie is really a transposition of how you see life. I like to mix dark and light. Do they negate each other sometimes? I know some people are disturbed by it. I know some people love it. All I can do is hope the second group is larger than the first.
Lela: As a remake of a relatively recent film, how did Corazón de León inspire or play a part in this film?
Laurent: We stayed very, very close. Because we loved the concept and the story. We cut a few scenes, added a few ones, but that was it. What we did change a lot, however, was the inside of the scenes. Our version is in a very different tone. A little darker, maybe, a little less extravagant, too. A little closer to the vest. A little more European, I guess.
Lela: What were the major technical challenges of making Jean Dujardin a more diminutive man? Was there an option to work with an actor that wouldn't require special effects to play the role ?
Laurent: Working with an actual "little" man was never an option for me. A huge part of the fun of the movie's concept, I felt, was to see a movie star reduced on screen. Also, it immediately implied that this wasn't trying to be "real". On the opposite, it was to be taken like a fairytale, one in which prince Charming was a few inches too short. The challenge wasn't really technical because, these days, you can do pretty much everything with digital special effects.
The challenge is making sure the technique doesn't take all the room, and that your actors remain at the center of the stage because they are, in the end, the ones that convey the comedy and the emotion.
Lela: Up For Love strikes a nice balance between formulaic "rom-com" and heartfelt storytelling; did one feel more important than the other to you?
Laurent: To me, the "rom-com" aspect of the movie was always a pretense to address deeper, more heartfelt things. People kept saying "this is going to be very funny", and I replied "Maybe…but I think it might be more moving than funny".
Lela: If you could get one person to watch the film, who would it be and why ?
Laurent: My grandfather, who has taught me the art of storytelling.
Lela: What is next for Laurent Tirard?
Laurent: So many things! I am shooting another film with Jean Dujardin next year (a period comedy), and I have three more projects at different stages of completion. And I think I'd like to take a vacation, too, at some point…
Up For Love is in cinemas now.