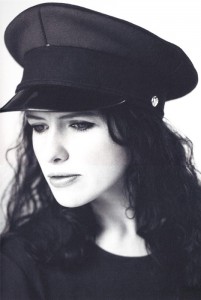 After Katie Grand helped launch Dazed and Confused with Jefferson Hack in 1992, she had stints at The Face and Pop before starting Lela London favourite, Love Magazine, at the end of 2008.
Grand recently talked to Models.com's Christopher Michaels, who asked her about her idea of cool, what she really thinks of blogs, and the fourth issue's iPad app.
As commercial as one part of me is, there is the other part of me that will be like, "oh is it cool?" It's just trying to keep that balance and unfortunately commercial often means bland; I'd rather not be bland. The fashion industry can be so evil to itself in a way, I think people can be so vindictive and nasty and judgmental about what you do and it happens in art and cinema as well. If you do anything and put yourself out there, you are open to criticism. It's that thing about, if I don't like it, how can anyone else like it? Or how can I be proud of something that's on the shelf if I don't even like it? It's not like when you style a show because that's someone else's, the buck stops with someone else other than you and of course you care and you want to do your best but there is someone else at the end of the line making the final decision, with the magazine, that person is me.
…and that's the reason blogs really do your head in; the minute you start reading them you are just full of self loathing… I think what I learned from reading too much of TheFashionSpot is that the things that bother you are only things that you think yourself. I mean, if anyone had said anything bad about the Daria story from the last issue, it's like, "Oh for God's sake, she just looks like the most beautiful woman on the planet, shut up."…Whereas there are other things that people pick up on and you're just like, "ugh I know" … And those are the things that keep you up at night…
It's kind of weird, I think that there is something about a photograph on an iPad or a computer; even though they should look better because there is a light box behind them, there is just something that doesn't translate that well for me. The thing that I'm obsessed with is moving image, much much more than putting photographs on an iPad.