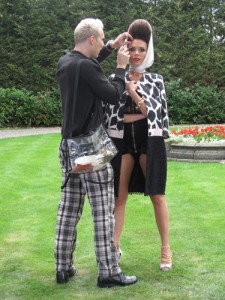 The November issue of Marie Claire throws Giambattista Valli, Monique Lhuillier, Bordelle, and Jean Paul Gaultier on Posh-as-ever Victoria Beckham. Shot by Ruven Afanador, the girl band member turned fashion designer gave great interview. Some highlights below.
(Re: David Beckham) "We were about to go out somewhere the other day, and he was sending an email. He was sitting at the end of the bed, and he had no clothes on whatsoever," Beckham tells the magazine. "I was getting out of the shower, and I just stood there looking at him. He was all tan. Has all those tattoos, which I love. Hadn't done his hair. He just naturally looks good all the time….
"So he's sitting there sending his e-mails, all ripped. Not an ounce of fat on him. And I thought, You done good, girl."

"People I respect complimenting me on my work in fashion is more exciting to me than anything I ever achieved as a Spice Girl," Beckham shares. "I am now competing in an arena where I can hold my head high. I feel quite confident in what I'm doing now, much more than the singing. I was never going to give Mariah Carey any competition."

"Marc Jacobs once told me something I've always lived by," she explains. "I asked him who he considered his competition. 'I don't have competition,' he told me. 'My competition is myself from the season before.'"

"I'm finally just doing what I like. I put the clothes on and I look in the mirror and I think, would I wear this? I'm not worried about what's in fashion, what's not in fashion, what are the colours of the season. I go with my gut instinct because every time I haven't it's been a mistake."

"I take care of myself. I work out every day. I eat healthy. But I like to have fun too. I'm not going to say no to a glass of wine, let's put it that way. But God! People in this business are obsessed with youth. I can understand it when you constantly see pictures of yourself in the press. But I do seem to be the only person I know who is getting older. Most famous people get younger and younger. I sometimes ask myself that question: 'How come I'm the only person who's getting older?' But I'm cool with that. I read once that elegance is a privilege of age. I thought, that's so true. You get more comfortable with yourself as you get older."
Full interview at Marie Claire.