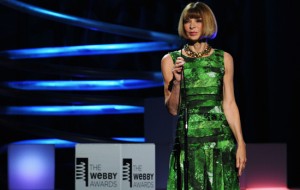 – Anna Wintour accepted the award for Best Fashion Site at the 15th Annual Webby Awards. Her acceptance speech? "Sometimes geeks can be chic."
– Prada (you know, the epitome of Italian fashion brilliance) was looking to raise up to $2.6 billion through a Hong Kong IPO. Yet, when they launched the retail portion of the IPO on Sunday, they generated five times the expected demand. Duh. It's Prada.
– NBC's newest reality show, "Fashion Star", just hired Jessica Simpson as the contestants' mentor. She joins host Elle MacPherson on the singing, dancing, live, runwayed extravaganza that will eventually reward an aspiring designer with the money to launch their own brand. Fans will also be able to purchase the winning designs online as each episode airs.
– Last week, Kate Middleton stopped at Boots before a gala to buy some Nivea moisturiser. Expect to hunt like never before for your moisture now, Nivea users.
– Kate Moss' bachelorette party went down as follows: 30 of her closest friends (including Daphne Guinness and Jade Jagger), two oversized pink Hummers, 120 bottles of booze of rum alone, and a trip to listen to the Foo Fighters. My kind of girl.
– Bella Swan's wedding dress confirmed! Kristen Stewart's Twilight character will be getting married in a Carolina Herrera dress. No photos available as of yet.
– Stylist Lori Goldstein has just joined W's new style director, Edward Enninful, as the glossy's style editor at large. Killer team.
– Lily Allen announced she was pregnant – congrats! – and got married – double congrats! – on Friday. She wore the beautiful 'Raphael' Calais lace wedding dress by Delphine Manivet, and looked positively lovely.