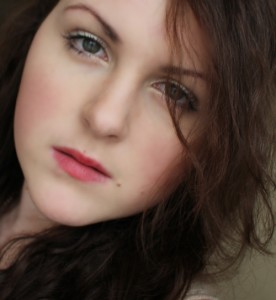 Want that bright and not-shiny glow without pounding on excessive sparkle and bronzer? Get the natural-looking how-to below with some of the greatest new products in Beauty Town!
Rub SkinMedica's Redness Relief CalmPlex in every area except your natural 'blush' area.
Use Priori's CoffeeBerry Brightening Facial Complex for a wake-up call infused with soothing and moisturising botanicals and antioxidants. It smells like the most sumptuous, creamy vanilla and gets rid of any and all pigmentation.
Swipe Susan Posnick's ColorFlo Shimmer all over your face. Designed as a highlighter, it actually works brilliantly as a light-as-air mineral powder for European skintones. The soft shimmer also reflects light brilliantly, giving you a flawless complexion. (See: un-retouched photo above!)
Use Susan Posnick's Gold ColorEyeDefine pencil to line your upper lash line and inner corners. On the other end of the pencil, use the blendable mineral eye shadow over your liner for staying power. This isn't about blending shadows, it is all about brightening the eye area.
Use RevitaLash's Mascara in Raven. It is flawlessly clump-free and perfect for creating defined, long eyelashes that look completely natural.
Illamasqua's Lipstick. Look at the colour of your cheeks and choose a similar, creamy colour to dab on the lips and then rub in with your finger. This will create a soft stain without the drying feel that lipstains often cause.
Stockist info: Get SkinMedica, RevitaLash and Susan Posnick from www.skinbrands.co.uk.
Get the Priori CoffeeBerry at www.cosmeceuticals.co.uk.