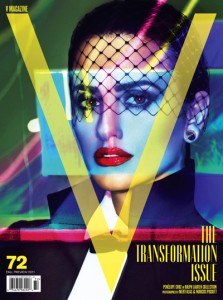 "V72: The Transformation Issue" is upon us (that's V Magazine's latest issue to you and I). Not only have they got Mert and Marcus to shoot Penelope Cruz for the cover – oh no – but they've turned the technicolour image into a hologram that opens and closes her eyes when tilted.
Inside, the issue contains an interview and photo-shoot with a completely transformed Paris Hilton (seen below), who is claiming for the first time that her 'dumb heiress' image has been a publicity stunt from Day One.
With Lady Gaga, Anna Paquin, Karl Lagerfeld and much more, V72 is packed with goodness.

V72 THE TRANSFORMATION ISSUE from V Magazine on Vimeo.