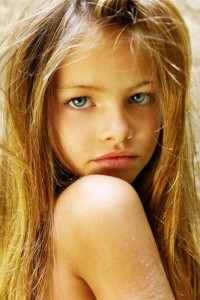 Thylane Lena-Rose Blondeau is one of the the very few young-and-stunning 'model sensations' set to make an enormous name for herself. The thing is, she's 10 years old. Born in the Ivory Coast in 2001, it seems she was genetically blessed with a quintessential 'model face' – something extraordinarily reminiscent of Brigitte Bardot and Lou Doillon.
With such an extensive portfolio already in place as the incredibly young model hit double-digits, Thylane has been the center of both awe and controversy. While her prominent beauty is of no argument, the fact that she has been styled "seductively" in some shoots makes me uncomfortable. While a woman's right to her sexuality is completely her choice, she is in no way close to being a woman. I believe this young girl has, to be cliche, a face that could launch a thousand ships. When these tiny beauties are still years away from puberty, though, let those of us in the industry keep them modelling as children and children only.
I wish her a safe and wonderful career ahead.