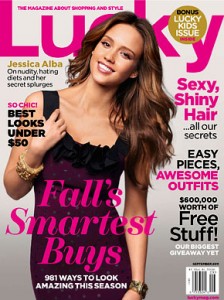 Jessica Alba to Lucky magazine:
"I have a hard time with portion control, so I have 1,200 calorie meals delivered. But I also work out, so basically I'm starving. It sucks. I drink a lot of water. […] In the gym, I have like five things to distract me: TV, iPod, magazines. Working partners are good, too, so you can chat and not just drown in your own misery. Sorry, does that sound bad? I just hate working out."
While the beautiful (and pregnant) actress has put this all in a very light-hearted manner, the undertones make me incredibly uncomfortable. What she's basically sharing is the tremendous heat of the media's idealization of her to remain one of the many 'perfect' figures in the public eye.
I feel incredibly sorry for her. She's open about the suck-factor, but then apologizes for the complaint (?!). She's been in the industry since she was very young, and has never has an 'unhealthy' body shape. To feel some sort of misery while she works out, and to have a self-diagnosed 'problem' with portion control…
Just when does the pressure end really? It hasn't ended at pregnancy.