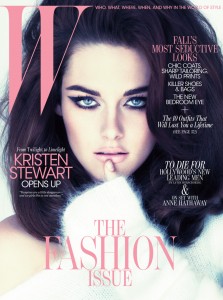 It's not Brooke Shields, it's not Lindsay Lohan, it's a Barbarella-haired Kristen Stewart on the cover of W Magazine's September 2011 issue! What a knockout. With the combination of her white Max Mara mohair and wool sweater plus a swipe Rouge Dior lipstick in Angélique Beige, she has retro, chill-out glamour down to a tee.
Inside the editorial, shot by Mert Alas & Marcus Piggott, she continues to vamp it up in Junya Watanabe, Dolce & Gabbana, Theory, and the same Gucci dress Beyonce Knowles wore on the cover of Harper's Bazaar UK.
My favourite segment from the accompanying interview:
Twilight was your college, and you graduated, in a way: You became Bella Swan at 17, and now you're 21.
Yeah—and that time has been sort of nuts for me. In film, I have chronicled every stage of my life since I was nine. And it's more intense now, obviously, because I'm not in control of it anymore.
You're not in charge of your life?
No. Not really. Not if I want to think solely about what I really like to do. It's a funny thing: You want so badly for people to see what you do—you're proud of it—and I like the effect that movies have on people. But the attention can also make me uncomfortable. In certain situations, people say to me, "C'mon, what's wrong with you?" I apologize. I love what I'm doing, but I'm a little uncomfortable.