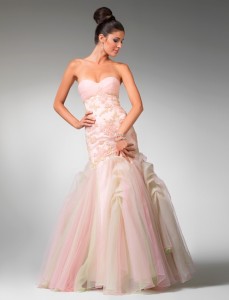 Designer Maria Karicas Discusses Fashion Trends
If you've ever seen a prom dress, you've probably seen a dress by Clarisse. The label, though they don't offer prom dresses exclusively, designs the kind of dresses that sparkle, shimmy and steal hearts while keeping the costs at a minimum. You know what that means? Great design at price points we can all afford!
Below, check out an excerpt from an interview with dress designer Maria Karicas where she discusses some of the latest fashion trends. She studied at Parsons The New School for Design in New York City, and is one half of the brilliant Clarisse design team.
Question: What are the challenges of staying on top of the latest fashions? How do you have a 'trendy' dress produced in time before it goes out of style? Do you have secrets for staying ahead of the trends? In other words, if a movie makes a certain style an instantaneous 'hit', how are you ready to capitalize on that?

Maria: I think the secret is that you just have to always be paying attention. You always have to be aware of current tastes and current trends. You want to follow the trend and at the same time make it your own, but to do that you need to at least know where the trends are going. It's like if you're a stock broker, whether you're busy or your on vacation you still have to pay attention to the financial news. Same thing applies with designers and fashion.

Question: What are some current fashion trends that you are seeing?

Maria: Shorter dresses are coming back. Sequins are very popular now, so is sparkle, really anything that gives the fabric texture is very popular now. Also you're seeing feathers come back. I think that may have something to do with Black Swan and this whole ballerina aesthetic becoming popular again.

Question: Are there regional style differences within the United States when it comes to prom and homecoming dresses?

Maria: Definitely. What girls are looking for in Dallas vs. Maine or in New York vs. L.A. is always going to be different. It has to do with a lot of things I suppose, culture, and climate. But yes, there are always going to be big regional differences in the United States.

Question: Are there notable differences in fashion trends in different areas of the globe?

Maria: Yes, you will see very different styles in different parts of the world, but the most interesting to me, being in fashion is areas like Milan and Paris. People there are willing to take more risks, maybe it's because the fashion world looks to those areas for the next new style or trend but whatever it is there are lots of places in the world where people are trying to follow trends but there are a few where people seem to be trying to start trends and I think that's pretty cool. Not waiting for a designer or magazine to make it popular but just taking a look around on the street in a culture where people are a little more adventurous with fashion, for whatever reason.

Question: Is there any way to explain why certain fashions take off in one area but not another?

Maria: It can be any number of things, cultural identity, local celebrities… There are always going to be different tastes in different parts of the world but as to why, I'm still trying to figure that out.
About Designer Maria Karicas
Designer Maria Karicas studied fashion and design at the Parson's School in New York City and in Paris. She designs prom dresses, homecoming dresses, cocktail dresses, and other special occasion dresses for the Clarisse line of dresses sold by Promgirl.net. She strives to integrate the latest trends in music and pop-art into her latest designs.