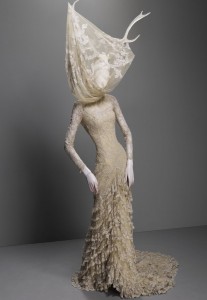 "Alexander McQueen appreciates the huge amount of interest the public has shown towards the Savage Beauty exhibition. We have been in discussion with a number of major venues in London for some time now however nothing has been finalised. Please be assured that an official announcement will be made the moment we confirm our plans for London."
– Spokesperson for Alexander McQueen
That's right, fashionistas and fashionistos! Though the details are still hush-hush, it looks as though Alexander McQueen: Savage Beauty will be coming to London in 2013, marking the 20th anniversary of Alexander Lee's business (only a few months after showing his Central St Martins MA graduation collection, "Jack The Ripper Stalks His Victims", in 1992). Supposed venue locations currently in talks include The Tower of London, Somerset House, The Truman Brewery (where the real Jack the Ripper stalked his victims), The London Dungeons, and Battersea Power Station. I cannot bleeping wait.