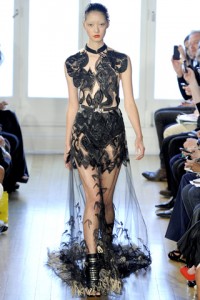 Julien Macdonald really wowed me this season. His Spring/Summer 2012 collection started off with the most chic-looking, (seemingly) ASBO-having woman I've ever seen; pure buttery leather meets military precision.
Quickly, the go-to sex appeal of Macdonald's designs were walking out in all of their glory; body-exposing graphic prints made from bright plastic thread, enough backless garments to completely swoop the back tattoo-having market (ahem, me), and high octane embroidered gowns with an extravagantly Givenchy (Fall 2010 Couture) feel. My Welsh brutha, you know what you're doing.
Drawing inspiration from techno-pristine fiberglass, leather, and the chrome of yachts in Monte Carlo, he tapped into his business savvy and mixed in Japanese origami tailoring and Chinese Ming dragon tattoo prints (hello, Asian market). He calls it 'modernist glamour'.