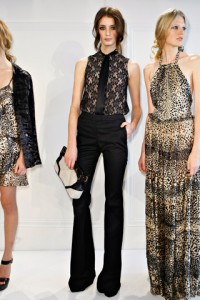 As a fashion stylist, there is some sort of unspoken rule that expects me to slate celebrity stylist Rachel Zoe. But…whatever…I love her. Writing about her Spring/Summer 2012 line was a given, and I am overly impressed with the consistency and transitional nature of her clothing line. In the words of my beloved Anna Dello Russo, "It's really, like, L.A. — an L.A. collection but done in an international way."
This season, Zoe was inspired by many things including Brigitte Bardot, the late sixties, early seventies, running around the south of France, and a nonchalant attitude that was reflected in her uncharacteristic showing of Springtime ballet flats.
Mixing stark white looks with mis-matched prints kept well-designed pieces effortlessly glam. Everyone loved it. The line to actually view the collection wrapped around 39th St to Broadway, even though the presentation was invitation only. This woman has a magic touch.