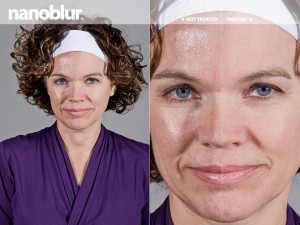 Though the admittance of it is often frowned upon, we all love a little bit of make-up. (Some of us love A WHOLE LOT).
The love, for the most part, comes from a simple desire to look better in almost no time at all. We don't want Rosie Huntington Whiteley's face, we just want to look like the best version of ourselves without wasting time or money…
…which is why I have fallen head over heels for a product called Nanoblur. Basically, it's foolproof airbrushing with instant gratification. It is one of those brands you would love to roll your eyes at – the makers of the balm claim it can make you look younger in 40 seconds – but, unusually, can deliver on their extravagant claims!
How so? The balm is chock full of high tech nanoparticles that distribute light evenly all over your skin, essentially blurring any 'imperfections' from wrinkles to pigmentation.
Though the formula is similar to the magic behind YSL's celebrity and cult favourite, Touche Eclait, the particles are actually even smaller – 700 nanometres, hence 'Nanoblur'.
A perfect choice for make-up 'free' days, men who don't wish to use foundation, and an extra boost under HD demands. Check out my bare face below to see how brilliantly it has worked in regards to evening out my rosacea-affected complexion!
The cherry on top? It sells at Boots for £19.99. For this kind of skin sorcery….a bargain.