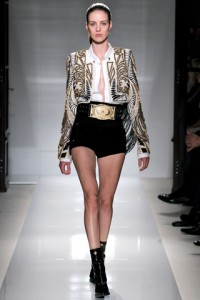 Though it is unrealistic to expect that we all will be able to afford the pieces presented, Balmain for Spring/Summer 2012 is going to give fresh, worldwide inspiration to many a fashionista.
Olivier Rousteing had a lot on stake this season. It was the young (and hot, ahem) designer's first season at the reigns of the label after working under Christophe Decarnin for two years, and he certainly impressed. With not a raised brow in the room, Balmain's ferocious rock and roll edge took not a step out of line.
With Rousteing's MO being to mix the tailoring of Mexico and the glamour of Vegas without watering Balmain down, he turned out a brilliant, refined collection. With chrome, gold, black and icy white literally sparkling it's way into view from backstage, we all experienced insta-love over second skin style dresses, beautifully embellished and fringed jackets, as well as enough leather and studs to please the baddest 'bad girl' around.