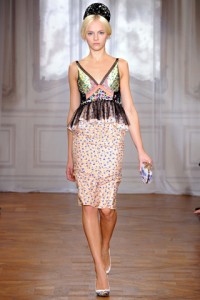 Though Peter Copping got a real upper hand on the lingerie trend when he presented his designs for Nina Ricci Resort, he carried his beautifully seductive pieces through to the brand new Spring/Summer 2012 collection, "Zina".
While it was named after the artist who designed prints for Nina Ricci in the 1930's, Zina de Plagny, the artist's collaborative new century florals were above and beyond.
That said, it was not only the florals that had my heart racing. Dressed up sheaths, delicate underpinnings, and even a coat which was enveloped between two layers of grey chiffon, quilted with silver thread. He cohesively designed a collection that appeals to both a daywear and couture customer. I die.