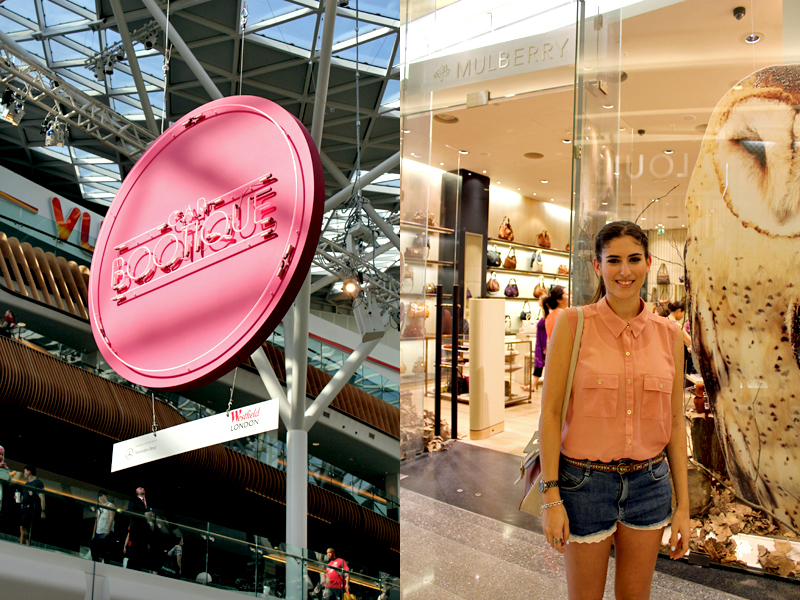 For the second year in a row, Westfield London have taken it upon themselves to completely revolutionize the modern car boot sale with…drumroll, please…The Car Bootique!
This year, The Atrium was filled with 10 fashion-forward Mercedes Benz beauties, brimming with the best of Autumn/Winter 2011. Each gorgeous luxury vehicle was decorated by a brand, who each individually had something special on offer for visitors. Brands involved were Reiss, Coach, French Connection, Twenty8Twelve, Onitsuka Tiger, Ted Baker, House of Fraser, Firetrap, River Island and DKNY Jeans…
…and breathe!
On top of that, there was a "Blogger Hunt" set in place for a chance to win a £100 Westfield Gift Card. To win, you had to follow Lily from What I Heart Today and Jess from CatwalkQueen.tv on Twitter, follow their clues, and try to find them.
Clue 1: I'm feeling truly British today! #wihtwestfield @westfieldlondon
Amazingly – because I never win anything – my fashion knowledge and mental map of Westfield's 1,614,600 ft² building came in handy as I managed to find Lily (above) within a minute of reading her clue! Proof that a Mulberry obsession can be profitable, no? ;D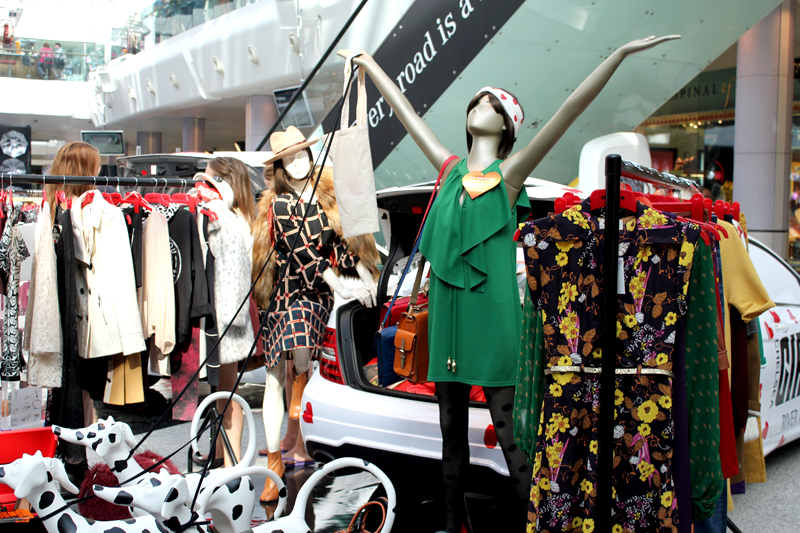 Back to the Car Bootique with gift card in tow, I finally got to join the crowd of style-savvy visitors to play around (and get snap-happy with) new and one-off pieces from some of my favourite brands. Pure fashion heaven.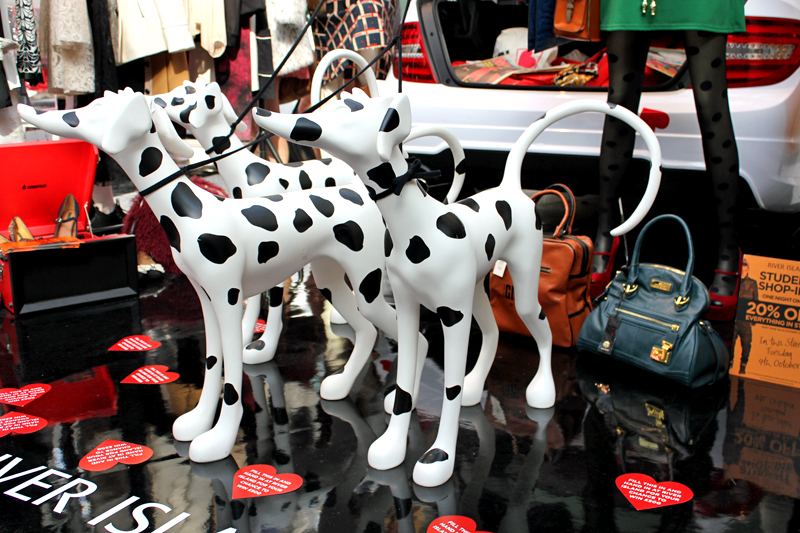 So, what were some of the best goodies, you ask?
The cute-as-can-be car, above, belonged to River Island, who were ready and willing to share their exclusive Chelsea Girl collection! For those who don't remember, Chelsea Girl was actually the high street favourite from the 60's to 80's before they transformed into River Island, right as the 90's approached! Everyone who visited The River Island wardrobe were entered into a draw to win £500 worth of River Island vouchers.
Onitsuka Tiger implemented a 'fishing' game where you could 'fish out' a shoe from the car's boot which would contain an origami object that unfolds to tell you your prize! There were also major 50% off discounts.
Reiss were offering 10% off stock, a showcase of their anniversary collection 'Reiss Editions', and a chance to win an entire Reiss wardrobe worth £500!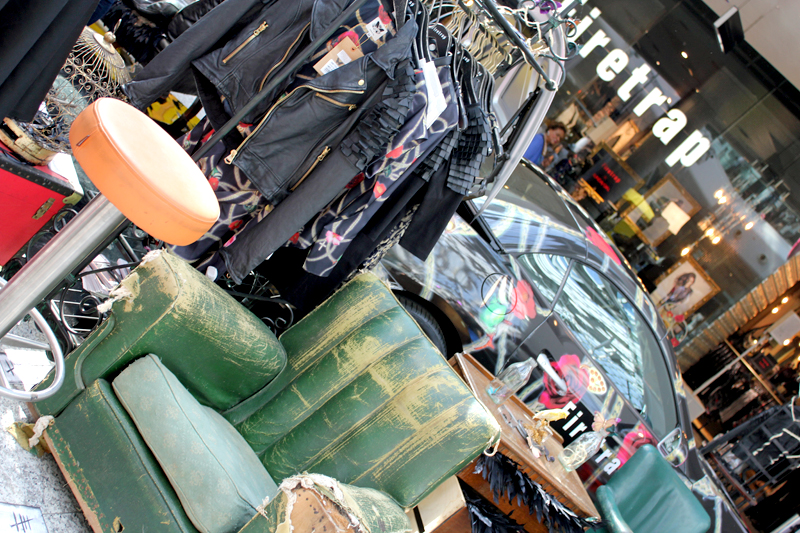 Firetrap were doing it big! Not only did they have a gorgeous, glam grunge collection on offer, but they were giving some really fabulous things away. First, there was complimentary Nail Art manicures by Sophy Robson's NailPorn, then there were free customised t-shirts with every purchase over £20 (with proceeds going to Teenage Cancer Trust!), and – to celebrate the launch of The Sunday Girl collection – Sunday Girl herself aka Jade Williams was doing a special DJ set.
DKNY Jeans, ready with a New York City cab-esque Benz and traffic lights, were offering every shopper an amazing 20% off any new season collection purchases!
And last, but not least, Ted Baker! With every purchase during the Car Bootique, customers received an envelope with a 'win or lose' message inside. With a win, they had the chance to get a prize from 'Ted's tombola', or even the grand prize – the entire wardrobe of Ted Baker goodies in the boot itself!
After all that shopping, there was even a "Hair and Beauty Pit Stop" where The Ginger Group and new make up brand KIKO were offering full make-overs! With blow-outs, styling and trials of the latest, greatest palettes and products in Westfield, it was a great opportunity to get glamorous in time for their…
…fashion shows! Each day, there were four shows that showcased the most beautiful and trendy garments for the season ahead. Autumn/Winter style selections included all of the Car Bootique brands, and they were styled to perfection. It was a great source of inspiration and entertainment for anyone outside of the fashion industry who typically doesn't get to see the shows. They were super professional, and demonstrated key trends we will be seeing over the next few months; heritage, ladylike lines, animal print, and mod, especially.
A real high note to end the day!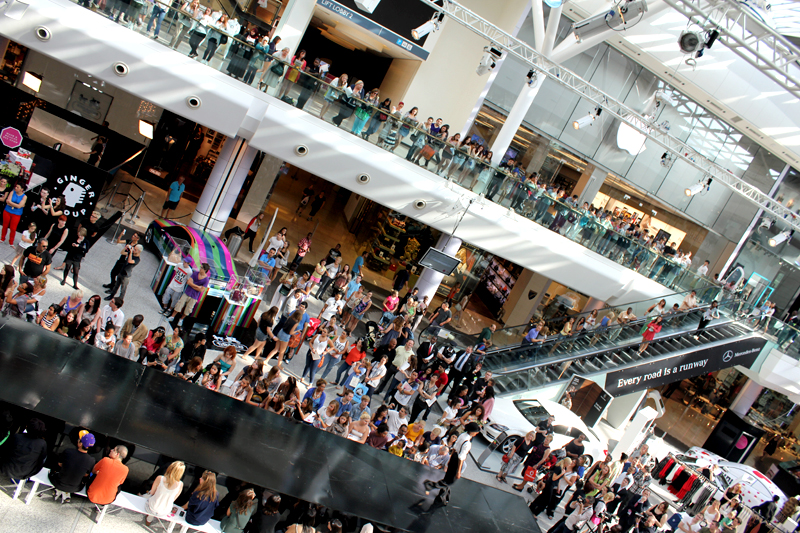 Take note, all! Until the end of the day, Westfield is holding an online competion where they are giving away a car boot filled with 10 prizes (worth over £1,500!) to one lucky winner. Check their Facebook for details, and good luck!
Besos,
Lela xo