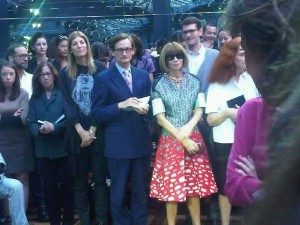 The benches broke at Balenciaga's show for Spring/Summer 2012 at Paris Fashion Week, leaving Anna Wintour and many other attendees to partake in an unintentional standing ovation.

Former editrix of French Vogue, Carine Roitfeld, is set to launch her own magazine! In an interview for Dazed & Confused, she expressed hopes to launch a "really iconic magazine that's fresh and exciting" which won't be monthly but will be printed in English. The debut issue is penned to launch for September 2012.

In crazy-English-people news, Liverpool-born fashion designer Rachel Freire has caused many people to clutch their pearls by making a rosette-looking dress composed of 3,000 protruding cow nipples. As you may assume, animal-rights groups aren't at all pleased.

Andrej Pejic has been invited to meet The Queen. He is part of an Australian and fashion-filled group that will attend a reception at Buckingham Palace.

Jennifer Aniston and Justin Theroux recently had a photo set taken by Terry Richardson. Engagement photos? Not confirmed, but the tabloids will surely say so!

Emmy winner Melissa McCarthy, of Gilmore Girls and Bridesmaids fame, recently told the Hollywood Reporter that after designing her own Emmy gown in collaboration dressmaker Daniella Pearl, she plans to launch an entire line for plus-size women.

"Trying to find stuff that's still fashion-forward in my size is damn near impossible. It's either for like a 98-year-old woman or a 14-year-old hooker, and there is nothing in the middle."
Nicola Formichetti's show for Mugler opened with a short film of Lady Gaga by Inez & Vinoodh. In the video, below, Mother Monster shows the audience her buck teeth and suggests that you "don't fuck with me" and "don't fuck with Mugler." The Wall Street Journal's Christina Binkley tweeted, "I have rarely seen so many pissed off people rush out of a fashion show. Mugler. #pfw No new trends there" in response.