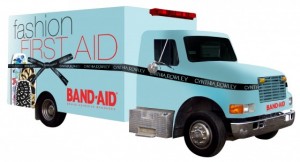 It's Glambulance to the rescue! I'm talking the kind of rescue that even those without problems will covet. Fashion designer Cynthia Rowley has set it upon herself to give away MAJOR prizes to those of you with the best/most embarrassing wardrobe malfunctions. Got something that qualifies? Head to the Band Aid Facebook page and go to the "Fess Up" Contest to submit your fashion cringe moment and get the chance to win styling session as well as a $2,500 shopping spree at Cynthia Rowley! The Glambulance will also be out and about on Fashion's Night Out on 5th Ave between Cartier and Ferragamo. Wink wink. ;)

Lady Gaga has announced her new persona is a "Nymph". See: pale hair and make-up from the You and I video.

Taylor Lautner, of Twilight fame, has reportedly taken Elle's Joe Zee (love him! love him!) as a style consultant. Looking forward to some refine Werewold styling on his upcoming Abduction press tour.

Azzaro has named a new creative director: Mathilde Castello Branco – previously at Lanvin, currently set to rock the industry.

Michael Kors will be launching a new "digital venture" next week. Called Destination Kors, the project will offer a mix of e-commerce and editorial content. Expectedly, to further brand his fashion empire.

The uber-talented former creative director at Sonia Rykiel, Gabrielle Griess, will launch her own fashion line at this season's (Spring/Summer 2012) Paris Fashion Week.