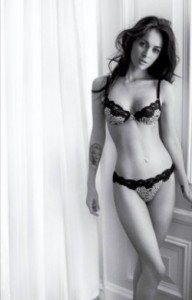 Ever wondered how Megan Fox got that body for her Armani ads? "For a year and a half, until about four months ago, I followed a strict vegan diet based on raw fruits and vegetables, no bread, sugar and coffee, but I had lost too much weight. So now I eat a bit of everything. I train three times a week doing circuit training with my trainer Harvey Pasternak."
Brioni is ending its womenswear line! Quel horreur! Not only is Brioni's Italian manufacturing plant shutting down in September, but their contract with the label's creative director, Alessandro Dell'Acqua, is coming to a definite end.
Though it is still a "fashion rumour", there is talk going around that Lady Gaga is going to collaborate on a fashion line with her younger sister, Natali Germanotta (Lady-in-Waiting Gaga?). Natali is currently a design student at the Fashion Institute of Technology – the mega-school that has helped developed such talents as Isabel Toledo, Calvin Klein, and Carolina Herrera. Their collection will be comprised of diva-worthy designs that could be categorized under 'ladylike with a twist'. Instead of meat dresses, think of a "Gentlemen Prefer Blondes" wardrobe with innovative materials.
Nelson Mandela is launching a clothing line, too?! That is enough to pique anyone's interest. Apparently, the former South African president's charitable foundation has recently launched a clothing line that will donate all proceeds to fundraising efforts towards HIV research. The line, called 46664 (the number Mandela wore during his 27 years of imprisonment), is economic genius; made solely from South African-produced textiles, the four factories that make the apparel are all located in South Africa and employ over 1,500 people. Sartorial sustainability. Go, Mandela, go!