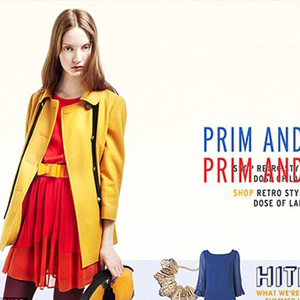 Model Codie Young was accused of anorexia by 'experts' and journalists when overly-photoshopped images of her were released on Topshop's website. Codie has spoken up to dispel rumours. Why? "I'm one of those people that doesn't take crap from anyone. I stand up for myself. I felt I shouldn't just sit back and have someone say something about me that's clearly not true, so that's why I decided to do it. I just wanted to let people know it's not OK to just call us anorexic. I mean, obviously I understand that people are going to have opinions of me because I'm a model, but it's different to accuse someone of having a disease."
Lily Allen is closing "Lucy in Disguise" – her store in Covent Garden. In August, she will be opening a new branch in a different area of London. When rumors spread that Lily's business was struggling, she tweeted "If any other publication wants to write deliberately misleading articles about Lucy in Disguise, feel free, I WILL sue you."
"What I love is this idea of a wardrobe. The idea that we're establishing certain signatures and updating them, that a change in colour or fabric is enough. I do think that the world doesn't need many more frivolous bits and bobs that end up left in cupboards or landfills." – Phoebe Philo on Celine
Lil Wayne is planning on launching a clothing line called 'Rebirth'. Yes, like his album. "I just figure that I… I'm funky. I got that from my stylist, Marisa. I'm funky, like she say. I wear a whole buncha items at one time, you know what I mean? I be figuring you at least want one of them items. Like, 'Damn, I'd love to have that safety pin he got on,' you know what I mean? Anything. I got on these types of shoes, these shorts, this sweater… A year from now, I want all these items to be mine. Rebirth. I want—I just figure people want to be funky like me, so I got my clothing line."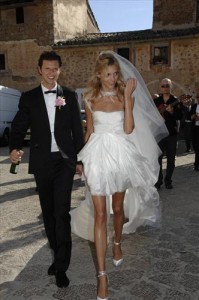 Models Anja Rubic and Sasha Knezevic got married on the Mediterranean island of Majorca. Anja wore a wedding dress-cum-minidress custom designed by Pucci designer Peter Dundas.
Fabio is selling half-inch pieces of his hair for $10,000 on Craigslist, along with a $500 ice cream scoop, a $4,000 tanning bed, $8,000 CD tower, and a $5,000 commemorative pizza stone. Great way to spend your allowance.
Vogue has a new secret website that will launch in December. No-one is revealing the content or plans for the site. Let's hope for a sartorial social network!