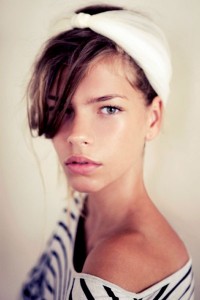 Though the CFDA strongly advised (aka implemented a rule) against the casting of any model under the age of 16 during New York Fashion Week, at least one managed to fly under the radar. It has recently been revealed that 15-year-old Valerija Sestic duped over a dozen designers (including Prabal Gurung, Rodarte and Oscar de la Renta) into believing she was of age.

Her management, Women Management, had president Dejan Markovic respond: "It is true. She is 15. This is never going to happen again from our company. I take full responsibility."

Model Lara Stone told GQ's Will Welch: "It hurts when you're having a tough day and someone says, 'She's so fucking ugly I wouldn't let my dog near her [….] Yes, they have. And 500 people 'liked' it!"

As we draw nearer to the launch of Kanye West's designer clothing line, rumours have emerged that the rapper has recruited many Central Saint Martins students to work on his collection for Paris Fashion Week. Less than a week left, you guys!

Rooney Mara, the actress who will inevitably get mega famous after playing Lisbeth Salander in the US' December 21st release of Girl With the Dragon Tattoo, is set to cover Vogue's November issue. Sources have confirmed so after Rooney and Anna Wintour sat together at Rodarte's Spring/Summer 2012 show.

Remember Tyra Banks' debut novel, Modelland? It is already rumoured to be bound for Hollywood. Though the book was officially released just this month, the Associated Press claims that Tyra has already been approached by "a successful film producer".

"I would love to open up the 'Modelland' casting to the world. I'm looking for an Everygirl to possibly play one of the characters in the story."
– Tyra Banks
Dibs on Tookie.