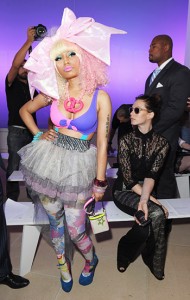 Nicki Minaj is Harajuku Barbie – this we all know – but no-one expected Harajuku Barbie to show up at New York Fashion Week. Nonetheless, Miss Minaj turned up to the Prabal Gurung show in a couture-ish cocktail, shouting crazy from Shojono Tomo-printed leggings to an enormous pink bow atop her head. Oh, the times I wish I could read Anna Wintour's mind.

Victoria Beckham is awesome. She sat in the front row at her own show and was chatting with her guests/attendees.

Forever 21 is selling a T-shirt for girls that says "Allergic to Algebra" on it. Make of that what you will.

The prequel to Sex and the City, The Carrie Diaries, is going into production as a TV series on the CW! (It only took three years to confirm the rumour?) Former "Sex and The City" writer Amy Harris has been confirmed to be taking part by Deadline, and Candace Bushnell (the brains behind Sex and The City, Lipstick Jungle, The Carrie Diaries etc) will be executive producer. Gossip Girl executive producers Josh Schwartz and Stephanie Savage are also on board.

While no-one has yet had the cajones to confirm any of the goings on at Dior, John Galliano's replacement has recently been widely reported to be Marc Jacobs. Neither Marc Jacobs nor LVMH are talking, but because of the increased responsibility that comes with the creative director position at Dior (that would be two couture shows, plus regular and pre-season collections), Marc Jacobs and partner Robert Duffy are asking for a package that will put their salary in the "low eight digits" (over $10 million LARGE).

Steve Madden has tapped the world's favourite style twins, Mary-Kate and Ashley Olsen, to be the new creative directors for Superga North America! This isn't just a 'slap a celebrity name on it' deal; this means the savvy sisters will oversee all creative and marketing initiatives, as well as have oversight for distribution.

"We hope to introduce a fresh perspective to this iconic collection, while honoring Superga's legacy of timeless design."
– Ashley Olsen
Tyra Banks is crazy. The All-Stars cycle of America's Next Top Model, starting Wednesday 9/8c on The CW, is going to own my life.