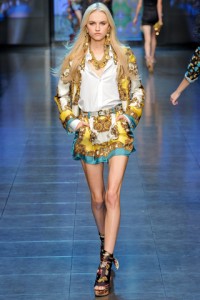 As previously mentioned, D&G's Spring/Summer 2012 collection was the final collection for the brand. Moment of silence…
…over. Time to get happy and excited about Domenico and Stefano's designs integrating into Dolce & Gabbana! As a goodbye kiss, the designers pulled scarf prints from their own back catalog and combined them with crests, medallions, polka dots, flowers, butterflies and more. Like a lot of my favourite collections this season, the entire show was frosted in prints.
Whether the look was glamorous, eclectic, or a mix of the two, I am positive that every single one of these pieces are going to be collector's items. Save me some minaudières, satin print wedges and gold gladiator flats, y'all.